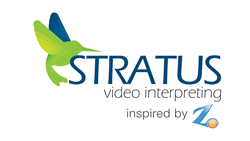 In emergency medical situations, time is of the essence — the faster an injured patient receives treatment, the better their chances for a successful recovery.
Clearwater, FL (PRWEB) December 30, 2014
Following a recent tour bus accident, emergency room staff at Mercy Medical Center in Redding, California, provided treatment to many of the crash victims — including a number of passengers with limited English proficiency (LEP). Faced with language barriers between ER staff and their LEP patients, the hospital called on Stratus Video Interpreting to ensure their patients had immediate access to qualified medical interpreters.
Dr. Mike Jasumback of Mercy Medical Center noted that many of the bus crash victims spoke Spanish and required interpretation services; and in an interview with KRCR News, he demonstrated the video remote interpreting (VRI) device he used to connect patients to a translator (1). Stratus' video interpreting service enabled Jasumback and his team to provide prompt and proper care to their LEP patients.
Numerous studies emphasize the importance of timely access to qualified medical interpreters. According to a recent article in the Annals of Emergency Medicine, professional interpretation services resulted in a significantly lower percentage of medical errors. When the researchers analyzed errors of potential consequence, they found that professional interpreters with 100 or more hours of relevant training had a 2% error rate, while ad hoc/informal interpreters had a 22% error rate (2). Another study published in the Journal of General Internal Medicine examined the impact of various interpreting methods on interpreting speed and errors, and found that remote simultaneous medical interpreting (RSMI) resulted in fewer medical errors and was faster than non-RSMI methods of interpreting (3).
"In emergency medical situations, time is of the essence — the faster an injured patient receives treatment, the better their chances for a successful recovery," stated Sean Belanger, CEO of Stratus Video Interpreting. "A lack of communication between accident victims and medical personnel can have a serious impact on their treatment."
Other statistics further underscore the need for healthcare interpretation services in emergency rooms. Census Bureau records show that 20.8% of U.S. residents – more than 61.5 million people – speak a language other than English at home; and over 25 million of them speak English "less than very well" (4).
Stratus remains committed to helping healthcare personnel provide the best possible care to patients with limited English proficiency and those who are deaf or hard of hearing. The company's video remote interpreting services offer a complement to healthcare facilities' face-to-face interpretation services, particularly in emergency situations when time is a critical factor.
To view the video featuring Stratus' service, click here.
To learn more about Stratus and its video-based medical interpretation services for limited English proficient patients, visit http://www.stratusvideo.com.
About Stratus Video Interpreting:
Stratus Video Interpreting provides on-demand interpreter services by using technology to connect clients with interpreters in over 175 spoken and signed languages in less than 30 seconds. Stratus' cloud-based video solution delivers an array of unique features to virtually any Internet-enabled PC, Mac, smartphone or tablet. Stratus clients use the technology to connect with their own staff interpreters, as well as with Stratus interpreters, who have years of healthcare and courtroom experience and hold multiple certifications. With Stratus, state-of-the-art video remote interpreting is made available with virtually no capital investment. Stratus averages 65,000 video calls a day, up from 40,000 in mid-2013. Stratus Video is the sister company of The Z® (CSDVRS, LLC, dba ZVRS), which was established in 2006 and developed by and for deaf and hard-of-hearing individuals, setting the industry standard as the nation's premier Video Relay Service Provider and the first VRS Provider to receive a 5-year certification from the FCC. In 2014, Stratus was recognized as one of the fastest-growing privately held companies, ranking #3,827 on Inc. magazine's Inc. 5000 list. For more information, visit http://www.stratusvideo.com.
1. Wade, Madison. "New Findings in Shasta County Bus Crash"; KRCR News; November 24, 2014; accessed December 18, 2014. krcrtv.com/news/local/new-findings-in-bus-crash/29912784
2. Flores, Glenn; Abreu, Milagros; et al. "Errors of Medical Interpretation and Their Potential Clinical Consequences: A Comparison of Professional Versus Ad Hoc Versus No Interpreters"; Annals of Emergency Medicine; November 2012. ncbi.nlm.nih.gov/pubmed/22424655
3. Gany, Francesca; Kapelusznik, Luciano; et al. "The Impact of Medical Interpretation Method on Time and Errors"; Journal of General Internal Medicine; November 2007. ncbi.nlm.nih.gov/pmc/articles/PMC2078536/
4. U.S. Census Bureau. "Language Spoken at Home"; 2013 American Community Survey 1-Year Estimates; reports generated via American FactFinder; accessed December 18, 2014. factfinder2.census.gov