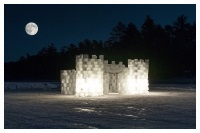 The ice castle was a huge success for us in 2014 and cottage rentals were up with guests anxious to participate in its construction and to enjoy afterwards
Calabogie, Ontario (PRWEB) December 29, 2014
The owners of The White Pines Resort (http://www.thewhitepines.com) report that they are busy ramping up preparations for the upcoming winter season. Work is already underway at the eastern Ontario resort located in the heart of Madawaska Highlands for two annual guest favourites; The White Pines' Winter Wonderland Ice Castle and the Festival of Lights Christmas lights display. Earlier in 2014, work was completed to expand and enhance the resort's trail system. The White Pines now has 17 different trails of varying lengths that cover over 20 kilometres for hiking, snowshoeing and cross-country skiing. Each trail is named in commemoration of a special White Pines Resort guest who has passed away.
According to Valerie and Shawn Popkie, who own and operate the four-season, family–friendly resort, winter is becoming one of their busiest seasons, with reservations up significantly for the past two years. They anticipate that the 2015 winter season will be their best one yet because of the strong American dollar. They also believe that the extensive variety of onsite winter activities available at The White Pines, along with the many special winter attractions not found at other winter resorts, helps to attract large numbers of repeat guests each year.
"The ice castle was a huge success for us in 2014 and cottage rentals were up with guests anxious to participate in its construction and to enjoy afterwards," reports Valerie Popkie. "The first ice castle at The White Pines was built as part of a corporate team-building session held at the resort. The team's goal was to build an ice castle complete with an ice bar. It was so successful that we continued the tradition, and every year build a bigger and better ice castle with our resort guests. It gives us the opportunity to share with our customers how traditional ice structures are made, using ice tongs and hand ice saws. The blocks are lifted out of the ice with ice tongs, cut with a chainsaw and fitted to form the ice castle. Last year's castle was 30x20 feet, with two turrets. In 2015, our plan is to make the castle even larger and more ornate. The structure takes a few weeks to build, allowing more of our resort guests to participate," says Popkie.
The Festival of Lights is another big draw for The White Pines. It began as an extension of the resort owner's family tradition of decorating for Christmas. "We put up so many lights that I have to start in late October. Because the resort is in a pine forest with 80 foot high trees, we bring in shorter trees to decorate. We also decorate the ornamental trees in the gardens and the smaller pines and cedars throughout the resort property. The outside of each rental cottage is decorated with homemade fir boughs (spruce, balsam, hemlock and cedar) bows and hundreds of garland lights. For the 2014/15, our guests will not be disappointed as we are adding lights to a new section of the resort, bringing our total light count to upwards of 25,000 lights. It's the nicest display of holiday lights in the Ottawa Valley," adds Popkie.
About The White Pines Resort: Located in heart of the Madawaska Highlands in the beautiful Ottawa Valley, The White Pines Resort is one of eastern Ontario's favorite lakeside cottage resorts with housekeeping cottage rentals, trailer sites and onsite marina. This family-friendly resort is open year-round and offers immaculately maintained rental cottages, fully equipped for housekeeping, with wood burning fireplaces, fire pits, picnic tables, and private decks overlooking the lake and forest. Perfect for romantic couples escapes, fishing retreats and Ontario family vacations, guests of The White Pines are sure to enjoy the resort's many fabulous amenities and fun onsite-activities. To book your Eastern Ontario resort winter getaway at The White Pines Resort, or for more information, please call 613-752-2884 or visit http://www.thewhitepines.com.
Contact Information:
Shawn & Valerie Popkie
The White Pines Resort
641 Popkie Rd
RR #2
Calabogie ON K0J 1 H0
613 -752-2884