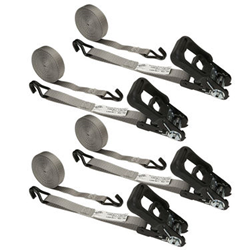 Urbana, IA (PRWEB) December 29, 2014
Specialty retailer US Cargo Control continues to add products to its selection of tie down straps, recently adding new items in its category of 1" ratchet straps.
The new products are part of an ongoing category line expansion that has already included the addition of hundreds of 2", 3", and 4" ratchet straps over the past 18 months.
Category Manager Kerry Trenkamp says the new products are part of the company's goal of reaching a wide range of customers, in both business-to-business, and business-to-consumer markets.
"We spend a lot of time researching industry trends, customer needs, and what's in the current marketplace before we introduce new products to ensure we're offering what our customers are searching for," said Trenkamp.
Trenkamp says customer feedback also plays a role in product additions, which was the case with the addition of the tree stand ratchet straps and straps in the powersports and recreation category.
"We had heard from customers saying they were using our 1" straps for tree stands and also for securing jet skis, so we created straps to better fit those needs, offering camo colored webbing and multi-packs for tree stand use, and in a special tri-down strap design for personal watercraft," said Trenkamp.
The continued ratchet strap product expansion is also a result of the growth of the company's sewing and assembly manufacturing division, which allows the company to bring new products to customers faster.
"Creating our tie down straps right here in-house has had such a positive impact in terms of new products," said Trenkamp. "Knowing we can guarantee a quality product while also requiring less manufacturing turn-around time has allowed us to confidently tap into new markets."
Trenkamp says the company is currently in the process of adding retractable ratchet straps to the category, and anticipates availability in spring 2015.
###
About US Cargo Control
US Cargo Control is a leader in cargo control industry, specializing in lifting slings, cargo control, rigging equipment and moving supplies. Focused on offering quality products, timely delivery, and an excellent customer experience, customers can purchase products on the company's website, USCargoControl.com or by phone at 866-444-9990.