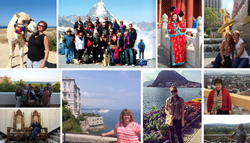 Oshkosh, WI (PRWEB) December 30, 2014
2014 was another exciting year for Fox World Travel as travel agents traveled the globe testing out new excursions, visiting new destinations, sailing on new ships, touring countless resorts and gaining insider knowledge from locals.
In 2014 Fox World Travel consultants visited Mexico over 60 times, sailed on over 10 river cruises, toured Italy on over 10 trips, sailed on three brand new cruise ships and visited Walt Disney World over four times. These are some of the most popular vacation options amongst their clients. In addition, Fox World Travel consultants also visited a variety of other destinations in order to learn more about them. Some of these destinations included Monaco, Exuma, Switzerland, China, Poland and Jordan, just to name a few. Reviews and photos of Fox World Travel consultants' trips can be found on the Fox World Travel Blog.
Not only did Fox World Travel specialists see their fair share of the world, but the travelers who joined them on exclusive 2014 Select Group Vacations, escorted by Fox World Travel tour managers, did as well. Photos of these guided vacations can be viewed on Fox World Travel's Select Group Vacations Shutterfly Site.
Fox World Travel strives to keep their travel consultants up-to-date on the latest industry trends, enrolling them in numerous training courses and allowing them to travel the world to gain first-hand knowledge to bring back home to their clients. Each agent has unique specialties in order to cater to the interests of all travelers. Consultants can be searched for based on their area of expertise using the Find a Travel Agent Tool.
About Fox World Travel:
Fox World Travel was founded in 1960 and is ranked in the top 20 of over 25,000 travel agencies in the United States, according to the Business Travel Survey in Business Travel News. Fox World Travel owns and operates 11 retail travel locations throughout Wisconsin as well as Premier Meetings and Incentives in Oshkosh and Fox World Travel School Online. Visit Fox World Travel online at http://www.GoFox.com.
Corporate Headquarters
2150 S Washburn Street
P.O. Box 2386
Oshkosh, WI 54903-2386
Phone: 920-236-8000
Fax: 920-236-8050
Website: http://www.gofox.com
Contact:
Brian Hurley, Vice President-Vacation Travel
Fox World Travel
(920) 236-8000
bhurley(at)gofox(dot)com
###
Company: Fox World Travel
Contact: Brian Hurley
Phone: 920-236-8000
Email: bhurley(at)gofox(dot)com