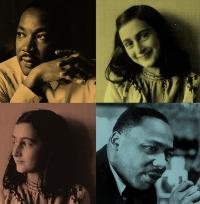 New York, NY (PRWEB) December 30, 2014
In honor of Martin Luther King, Jr. Day, join The Anne Frank Center USA for a special presentation of our signature theater piece, "Letters from Anne and Martin." This original production combines the iconic voices of Anne Frank and Martin Luther King, Jr. Developed with excepts from Anne Frank's "The Diary of a Young Girl" and Dr. King's "Letter from Birmingham Jail," the piece evokes the important messages from these legendary figures as they write of their hopes and plans for a peaceful and unified world.
After the performance, Jonathan Rieder, Professor of Sociology at Barnard College and a member of the graduate faculty at Columbia University, will read from his recent book, "Gospel of Freedom: Martin Luther King, Jr.'s Letter from Birmingham Jail and the Struggle That Changed a Nation." Hailed by reviewers as "brilliant" and "deeply informed," the book illuminates this seminal work by King and its crucial position in the history of civil rights. Having interviewed King's surviving colleagues, and located rare audiotapes of King speaking in the mass meetings of 1963, Rieder presents a startling perspective on the Letter and the man who wrote it: an angry prophet who chastised American whites, found solace in the faith and resilience of the slaves, and knew that moral appeal without struggle never brings justice.
Event Information:
When:
Thursday, January 15 from 6:30-8:30
Where:
The Anne Frank Center USA
44 Park Place
New York, NY 10007
212-431-7993
Admissions:
$8 adults; $5 students and seniors
RSVP at: http://www.brownpapertickets.com/event/1029617
or email: info(at)annefrank(dot)com
The Anne Frank Center USA, a partner organization of The Anne Frank House, uses the diary and spirit of Anne Frank as unique tools to advance her legacy, to educate young people and communities about the consequences of intolerance, racism and discrimination, and to inspire the next generation to build a world based on mutual respect.