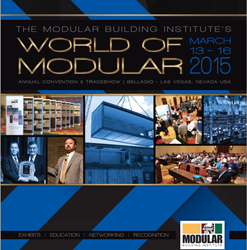 Las Vegas, NV (PRWEB) December 31, 2014
With the need to innovate and save time and money on new construction projects more important now than ever before, join the Modular Building Institute and their slate of world-class speakers at the 32nd annual World of Modular convention and expo, March 13-16 in Las Vegas, Nevada to find out the latest on the most efficient construction methods.
World of Modular is the place for professionals in or interested in learning about the modular building industry to network, exchange ideas, learn from other experts, discuss issues, display new products, and receive well-deserved recognition with the annual Awards of Distinction. World of Modular is an open forum for anyone interested in the modular construction industry, with high-profile speakers, top-notch educational sessions, exhibits, the latest trends in modular, entertainment, networking, and more!
The slate of speakers, as well as an agenda, is available to view and download online at http://www.worldofmodular.org. World of Modular will feature three days of breakout educational sessions on the international modular construction industry, including a range of topics like "An Architect's Approach to Multifamily Modular Construction in the Nation's Capital" by Abigail Brown of Hickok Cole Architects; "Case Study: A Modular-Made Malaysian Hotel" by Andrew Lian of Alda Consultants Architects; and "Embracing Modular Building in Hotel Construction to Achieve Speed and Quality" by Karim Khalifa, Vice President of Design and Project Management at Marriott Hotels International. Other notable speakers include economist Anirban Basu, is Chairman and CEO of Sage Policy Group; Lad Dawson of Guerdon Modular Buildings; Joe Wheeler, AIA from the School of Architecture at Virginia Polytechnic Institute and State University; Ryan Smith from the College of Architecture and Planning at the University of Utah; and many more.
"Past World of Modular events have provided an international group of speakers to help build knowledge and foster innovation in our industry. This year's slate of speakers broadens the reach even further – In some cases, bringing all major project stakeholders together in a single breakout discussion for a comprehensive look at how modern methods of construction should be used in the delivery of any project," says longtime World of Modular attendee John Morrison, Marketing & Business Development Director for Mark Line Industries.
For more information on the event:
Brochure: http://bit.ly/WoM2015Brochure
Pricing & Registration: http://bit.ly/WOM2015Registration
Speakers: http://bit.ly/WOM2015Speakers
Exhibit and sponsorship opportunities are also available.
# # #
About the Modular Building Institute:
Founded in 1983, the Modular Building Institute (MBI) is the only international non-profit trade association serving modular construction. Members are manufacturers, contractors, and fleet owners in two distinct segments of the industry - permanent modular construction (PMC) and relocatable buildings (RB). Our Mission: As the Voice of Commercial Modular Construction™, it is MBI's mission to expand the use of offsite construction through innovative construction practices, outreach and education to the construction community and customers, and recognition of high quality modular designs and facilities.