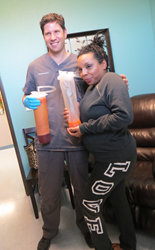 "I can finally walk into a crowded room without feeling like there is a spotlight directed at my breasts."
Las Vegas, NV (PRWEB) December 29, 2014 (PRWEB) December 30, 2014
According to WebMD there are nearly 1 million women that have significant physical discomfort secondary to excessively large breasts. The weight of the breasts tends to cause substantial back pain that will limit the individual on their activity level. In addition to pain, these women have difficulty finding clothes that fit them in the chest area. While large breasts have a positive connotation in our society, they are a nightmare to these women.
Breast lifts or reductions can cost $5000-$7000 and requires the dangers of general anesthesia. In addition, there is a large scar and the nipple will be moved and left with an unnatural looking scar. Because skin will be cut away, it is very difficult for the surgeon to leave the breast looking natural.
Trevor Schmidt PA-C, the liposuction specialist and owner at MyShape Lipo has performed well over 15,000 liposuction procedures. Through his experience, he's developed a unique technique to remove breast tissue and fat to reduce the breast size leaving the patient with smaller, lighter and more natural looking breasts.
"We treat many individuals with liposuction and can remove large volumes of fat to make big dramatic changes," says Schmidt. "It's really quite amazing the difference that we can make in less than an hour."
Mary Tate from Chicago, IL had her breasts treated at MyShape Lipo 3 months ago. "I can finally walk into a crowded room without feeling like there is a spotlight directed at my breasts," says Mary. "I still have breasts, just without the excruciating pain. I couldn't be happier!"
When your body is disproportionate life can be a struggle. It's difficult to fit into clothes without getting them altered. These women feel like everyone is looking at them and it could cause functional and emotional issues as well. Through a simple liposuction procedure at MyShape Lipo this problem can be a thing of the past.
Whether the change will help get a new job, feel better in clothes, allow the individual to be more functional or simply enhance confidence, liposuction is a great option. In the past, liposuction prices have been very high and the procedure was dangerous. The latest techniques of liposuction allow the procedure to be done in an office setting, under local anesthetic, with minimal scarring. In fact, the patient can normally return to work within 1-3 days.
The procedure is so simple and affordable that people fly in from around the world for the services of MyShape Lipo. They have made it very easy with their simple "all inclusive" pricing to figure out the cost of liposuction. Their patients stay at a local hotel near their office, who supplies transportation to and from the airport, as well as their office, which makes it very easy if the patients are traveling for their procedure.
About MyShape Lipo
MyShape Lipo is a specialty liposuction clinic located in Las Vegas, NV. Trevor Schmidt PA-C, the Liposuction Specialist has the experience of more than 15,000 liposuction procedures. Nearly 70% of their patients fly in from out of state for their specialized services, affordable prices and industry leading customer service. For a complimentary consultation by phone or in person call today, 702-818-5476.