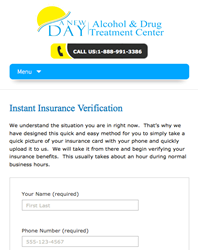 North Palm Beach, FL (PRWEB) December 30, 2014
For the millions suffering from substance abuse throughout the country, the idea of getting clean and sober seems daunting and overwhelming. With the use of smart phones and tablets, A New Day Treatment Center has perfected nearly everything.
With the introduction of snap shot insurance verification, A New Day rehab in North Palm Beach has changed the way addicts and their loved one find help. It used to be that a person would have to make a call to several treatment centers, provide each admissions specialist with their insurance information, reading long numbers and letters from the back of a card, and with each call people were losing precious time. When an addict is in danger of losing their life to drugs or alcohol, every second counts.
The mobile instant insurance verification is very easy. First they simply navigate to the Insurance Verification page on a tablet or smartphone and it is as easy as taking a picture and entering their contact information. A New Day uses two pictures (front and back) of the insurance card to verify the benefits. After these benefits have been confirmed, the admissions process is usually less than an hour.
So why is this speedy mobile authentication process saving lives? Typically the process of admitting someone into a drug and alcohol rehab takes time because you must verify his or her insurance and find out what benefits they qualify for. While the process of insurance verification can be quick with the right information, determining an individual's benefits can take days or even weeks. The sooner an admission professional receives this information the better.
Thousands die everyday from drug overdoses. Those who do not seek professional help for their affliction face the same consequence. While no treatment facility has found a cure for addiction, rehabs like A New Day are making strides in providing quick and efficient care.
A New Day Drug and Alcohol Treatment Center is a relaxing retreat in beautiful South Florida that is ready to help real people start their new life free of drugs and alcohol. Addiction and alcoholism are cunning diseases that have taken even the most kind, healthy, wonderful people and turned them into people that are ruled by their substance; saying things and behaving in ways we would never expect.