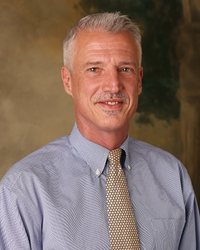 " I'm very surprised and touched to get such recognition and it means even more to know I was chosen for this honor by my peers." John Williamson
Statesboro, GA (PRWEB) December 30, 2014
In a longstanding company tradition, Willingway Hospital awarded Counselor John Williamson, CAC II, the 2014 Employee of the Year designation at its annual staff Christmas party. Employees gathered just before Christmas at the Springhill Suites Southern Hospitality Conference Center and celebrated with Williamson as his win was announced by 2013 titleholder Nurse Lynn Seamans.
Each year, winners are nominated by their colleagues and Williamson's peers noted in just some of their supporting evidence that he "is a very kind and gentle person who is active in the recovery community and the local community as a whole" who "not only cares for the patients and their families at Willingway but will show the same amount of compassion for his coworkers every day."
Upon receiving the award, John was extremely grateful and admittedly surprised by the honor. When asked if he was expecting to win, John replied, "Absolutely not! … I'm very surprised and touched to get such recognition and it means even more to know I was chosen for this honor by my peers. I feel very loved and appreciated."
John also added that "as Lynn was reading the comments from the ballots, I was trying to decide if the person I had nominated was going to win. As she read, I was sure my nominated person had won because all the comments fit perfectly. And that's why this is such a huge honor for me… because all the things that were said could have been so many of our coworkers."
To obtain photos or schedule an interview with Williamson or any other Willingway staff, please contact Sarah Dasher at 404.388.3750 or sdasher(at)willingway(dot)com.
About Willingway
Since 1971, Willingway, located just outside historic Savannah, GA, has helped more than 20,000 patients recover from alcohol and drug dependency. Willingway's treatment programs are tailored to the unique needs of each individual patient. The staff includes some of the top addiction medicine physicians in the country.