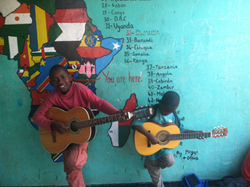 "Music has such ridiculous potential to bring hope and encouragement to people," MacLeod said, reflecting on the Instruments of Joy ministry he founded. "There's not a better feeling in the world." --article in The Tennessean
Nashville, TN (PRWEB) December 30, 2014
Joshua MacLeod is no stranger to oppressive atmospheres. He stood in Darfur with refugee children, who described what it was like to wake up to gunmen killing their parents. He's spoken with men who have lost everything and are trapped for life in one of the world's largest slums. But it was his visit to a Malawi orphanage that struck him with inspiration on how to help.
"I'll never forget it," he said, speaking of his trip to Malawi. "I stood inside this orphanage and the atmosphere was just weighted with sadness. Everywhere there were kids experiencing grief and hopelessness. It was a bleak situation; it was just sad. All I could think about was my own children, and how painful it was to witness this as a parent."
That's when an older boy walked into the main chamber, holding an instrument unlike anything Joshua MacLeod had seen before. This young teen had fashioned a guitar out of a gas can and a block of wood. With a wide smile, he went directly to the front of the room. Joshua had no idea what was about to happen, but the orphans did.
"When he started playing," Joshua continues, "the entire atmosphere of the building changed." Where there was only grief before, the children's faces lit with joy and the room filled with praise and worship. It wasn't just the orphan's response that amazed Joshua.
"Three things hit me," he says describing the moment. "One, was that this kid was a much better musician than I was. The second thing that hit me was that he was doing more with his musical talent than I was. Here he was bringing joy in this place of great poverty. And the third thing I realized was that I had three guitars sitting in my bonus room collecting dust and this kid was playing a gas can and block of wood."
When he returned home, he shipped off his best guitar to Malawi and set about starting a musical outreach called Instruments of Joy, as a branch of his 501(c)3 non-profit Watermelon Ministries.
The mission statement of Instruments of Joy is to equip orphans and aspiring musicians in the developing world with quality musical instruments in Jesus' name. Instruments of Joy collects quality, used instruments and/or purchases new instruments, then sends them with volunteers who are already going on mission trips in the developing world. The instrument is given to aspiring musicians who could never afford one otherwise. Donors receive a picture of the person who received their gift.
"We work with organizations that are established and have deep roots in the communities where they serve, so that when we connect those instruments, they put them into the right hands," Joshua assures. "There are a lot of ways to fight poverty. We fight poverty by by bringing beauty into areas of devastation and bringing joy through music."
So far, more than 100 instruments have been given away in 27 countries, including: Chile, India, Kenya, Malawi, Moldova, and Sudan.
Joshua MacLeod is available for interview and can talk about starting a non-profit, creative arts ministries, global poverty, and Christian ministry.
To book him or to find out more about Instruments of Joy, please contact Jessica Dotta at River Birch Industries; jessica(at)riverbirchindustries(dot)com, or via phone at 615.499.2071