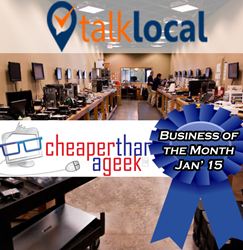 TalkLocal proudly counts Cheaper Than A Geek among its thousands of Premium Member businesses.
Crofton, Maryland (PRWEB) January 25, 2015
Cheaper Than A Geek, a computer repair company located in Crofton, Maryland, beat out dozens of small businesses across the country to become TalkLocal's first "Business of the Month" honoree.
Cheaper Than A Geek was selected mostly due to the overwhelming response TalkLocal received from the IT company's many loyal customers. The owner, Christopher Barber, is proud of the fact that his company's "customer service oriented approach" has gotten them more customer service awards than any other IT company in the entire state of Maryland!
The Business of the Month award was established by TalkLocal, a local services marketplace, in order to give credit and recognition to the local small businesses who've been helping TalkLocal's users since the startup's launch in late 2011.
'TalkLocal's smart technology may be responsible for matching consumers to the right local pros, but it's up to the pros to pick up the phone and deliver the excellent service we've come to expect from them", says TalkLocal's VP of Sales Paul Murskov.
Cheaper Than A Geek and its small staff has managed to make an out-sized impact during it's nearly 15 years in operation.
Here is just a few samples of the enthusiastic support that came pouring in from Cheaper Than A Geek customers:
"Great customer service, friendly staff, professional and the price is just right." - Holly
"Sheer awesomeness!" - Dale
"They rock!" - Judith
"They did a great job fixing my son's laptop, and they were really quick. They really tried hard in the customer service department too." - Jennifer
TalkLocal proudly counts Cheaper Than A Geek among its thousands of Premium Member businesses.
Any consumers in the Crofton, MD area who are in need of IT help, visit cheaperthanageek.com. Cheaper Than A Geek specializes in virus and malware removal, laptop service and repair, data recovery, and more. Follow them @CheaperTAG.
Of course, in over 50 service categories like computer repair, snow removal and heating & cooling, TalkLocal takes the hassle out of finding the right local professionals.