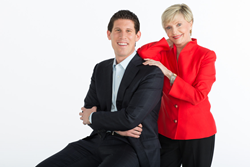 "Now that I have discovered Medical Guardian and how very important it is to personal safety, I wanted to share this good news with everyone!" -Florence Henderson
Philadelphia, PA (PRWEB) January 14, 2015
It's official: Florence Henderson has partnered with Medical Guardian to help older Americans age safely in their own homes.
The actress, who is most widely known for her role as Carol Brady on "The Brady Bunch," will serve as the spokesperson for Medical Guardian, appearing on their website, in videos, and advertisements for the medical alert device company.
"Florence is truly America's Favorite Mom and in so many ways, she embodies everything we're looking for in a spokesperson," said Geoff Gross, CEO of Medical Guardian. "Her enthusiasm, professionalism, and commitment to her health and wellbeing all made her the perfect choice for Medical Guardian."
Ms. Henderson, who lives alone in her home, remains quite active and continues to maintain a non-stop work schedule. In 2008 she was inducted into the Smithsonian Institute's first permanent Entertainment History Exhibit as one of the greatest pop culture icons of all time, in 2010 she performed on "Dancing With the Stars," and in 2011 she released a memoir titled Life Is Not A Stage: From Broadway Baby to Lovely Lady and Beyond.
"I always like to share positive personal results with others, so that their lives can be improved," said Ms. Henderson. "Now that I have discovered Medical Guardian and how very important it is to personal safety, I wanted to share this good news with everyone!"
Medical Guardian is confident that Ms. Henderson will help thousands of seniors understand that one doesn't need to be in poor health or have recently experienced a fall in order to need a medical alert system. "We speak to seniors and their loved ones everyday," said Mr. Gross. "I believe Florence will help many understand that this is a service for those who are still active and independent but may need some extra protection at home and on the go."
Medical Guardian now offers a wide range of product options to satisfy every lifestyle and budget. To view their full product line along with videos featuring Florence Henderson, visit the Medical Guardian website: http://www.MedicalGuardian.com
Medical Guardian is a leading provider of Personal Emergency Response Systems (PERS) and has helped provide peace of mind to thousands of older Americans and their loved ones. From the beginning, Medical Guardian's mission has been to provide seniors with access to affordable and reliable senior alert systems. Across the country, people now enjoy a renewed sense of independence, and their loved ones have the peace of mind knowing that help is always just a push of a button away.