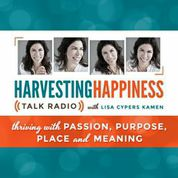 People are hungry for mindful, applicable and practical strategies in utilizing the difficulties of trauma, to make positive, lasting changes in their lives.
Los Angeles, CA (PRWEB) February 03, 2015
Coming out on the happy side of life's trials is not always foreseeable, but it can be a reality for those willing to work at it. Online podcasting has made access to positive lifestyle management coaching easier than ever for individuals seeking constructive ways to transform personal trauma into joy. Paving the way for positive psychology talk podcasting as a mainstream listener medium, is Los Angeles based Harvesting Happiness Talk Radio (@HHTalkRadio) host, Lisa Cypers Kamen (@LisaKamen). Kamen, a recent Florida Department of Citrus "Take on the Day" Wellness Spokesperson, President of HarvestingHappiness.com and Positive Psychology Lifestyle Management Coach, recently announced the re-branding of her popular weekly online conscience living radio show.
Now in its 4th year, HHTR is one of the top 10 shows most listened to on the Toginet.com radio network powered by Global Broadcasting Network, Inc. HHTR offers engaging, thought provoking content, exploring the realities of creating sustainable happiness from life trauma, and according to the most recent Arbitron, Inc, and Edison Research statistics, Kamen's decision to re-launch the HHTR podcast is right on point for listening audiences.
Arbitron/Edison studies state that approximately 120 million people (45% of the population) turn to online radio as their preferred media outlet. Out of those 120 million people, 32 million people had tuned into a podcast at the time of study, and of those 32 million listeners, more than 25% were listening to 6 or more podcasts per week. Bridging the talk radio listener demographic to readily accessible dialogue in current positive psychology trends, Kamen's HHTR is on a path to attracting more than 550,000 podcast downloads monthly. Kamen's influence with online listeners has also attracted many world renowned guests who are influencers themselves. Show guests have included; Philip Zimbardo, one of the world's foremost experts in psychology, former President of the American Psychological Association, and professor emeritus at Stanford University, Bernie Siegel, honored by the Watkins Review of London, England, as one of the Top 20 Spiritually Influential Living People on the Planet, and author of "A BOOK OF MIRACLES—Inspiring True Stories of Healing, Gratitude, and Love", and Helen Fisher, PhD Biological Anthropologist, a member of the Center for Human Evolutionary Studies in the Department of Anthropology, Rutgers University and Chief Scientific Advisor to the Internet dating site Match.com.
Most recently, Kamen interviewed a very special guest; Katie Kozloff, President of Katie K Active (an all-inclusive women's fitness wear company offering trendy active wear styles in sizes S-3X), and Founder of the #DefineBrave National Campaign, with whom Kamen has recently partnered with as a campaign Pioneer. Chosen as 1 of 5 nationally recognized women to act as public Pioneers and Spokespeople to various media outlets as official #DefineBrave Pioneers for Katie K Active, Kamen is no newcomer to helping individuals rebuild optimal happiness from a place of hardship. As a Life Triage Management Coach and Founder of 501 (c) (3) non-profit organization HH4Heroes.org, Kamen has worked with national organizations such as The Wounded Warrior Project, Guitars4Vets and The Veterans Preservation Corps, to assist warriors and their spouses in receiving stigma-free integrated combat trauma recovery services for Post-Traumatic Stress management. Consulting as an Applied Positive Psychology Coach at Vantage Point Lifestyle Management and Recovery Center, Kamen offers her expertise on transforming trauma into sustainable joy, enhancing the message of Katie K Active's #DefineBrave campaign. When asked about her role as campaign Pioneer, Kamen says, "Encouraging women to utilize trauma as a catalyst for proactive positive change, is a privilege. I am proud to help empower women with both physical and mental strategies for optimal living, as part of Katie K Active's public outreach through Harvesting Happiness Talk Radio," says Kamen.
The growing reach of Harvesting Happiness Talk Radio has not only led to recognition by companies as an influencer for corporate campaigns, but has also led Kamen to announce HHTR's focus on global expansion through terrestrial satellite into syndication. Kamen's new direction has opened the doors to corporate sponsorship and partner opportunities for companies eager for escalated exposure in the positive psychology and wellness industry. When asked to share her thoughts on the expanding ability of HHTR to attract global sponsors and assist in awareness for campaigns such as #DefineBrave, Kamen says, "We've been very fortunate to see a consistent rise in listeners resulting in millions of podcast downloads over the past 4 years. People are hungry for mindful, applicable and practical strategies in utilizing the difficulties of trauma, to make positive, lasting changes in their lives. We are optimistic that corporate partners and sponsors will take notice of our growing audience, recognize the upward trend of positive psychology interest among audiences, and choose to support our show. We have a great product! They won't be disappointed."
For more information about Lisa Cypers Kamen, or partnering with Harvesting Happiness Talk Radio, please visit HarvestingHappinessTalkRadio.com, HH4Heroes.org, or HarvestingHappiness.com. For more information about the Katie K Active #DefineBrave campaign please visit KatieKactive.com.