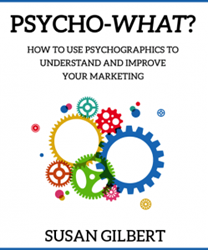 When you understand how and when your prospects make buying decisions, you're halfway towards converting them to customers.
Issaquah, WA (PRWEB) December 30, 2014
The psychographics marketing series will help anyone who wants to produce more leads, and learn more on how to effectively reach that audience. Tips include knowing more about demographics and locations of your fans and followers, gaining insight into personal lifestyles, values, and social class, how to gather important data, and successful implementation of market research. The series also includes a visual outline via an infographic.
What is the value of psychographics data? According to author and entrepreneur, Susan Gilbert, a business or brand that understands the needs of its leads and customers is one step ahead of the competition. Gilbert says that getting onto the same emotional level of your audience helps to create long lasting relationships.
"When you understand how and when your prospects make buying decisions, you're halfway towards converting them to customers," Gilbert points out. "It continues along as you build deeper relationships and a loyal base of customers."
Gilbert adds that the information gathered in thorough research will help provide a picture of an 'ideal customer.' "This is the person who perfectly fits your business model," she says. "It's the customer who buys from you consistently, is good to work with, and stays loyal for many years."
In order to create a truly unique psychographic profile, digital marketer, Marty Weintraub of aimClear®, said in a 2012 article that "psychographics are deeper and should not be confused with classic demographics." He added, "The age of a user is not just defined by years. Perspective is also gleaned by psychographic attributes like mindsets and cultural criteria."
Susan Gilbert is an Issaquah, WA-based entrepreneur who specializes in website development, social media and marketing done-for-you services. Since 1987, Susan Gilbert has been a leading expert for online marketing and began to implement social media sites like Twitter and Facebook while they were in their beginning stages. She is recommended by bestselling author Glenn Plaskin and by clients including author and Inner Sports founder, Garret Kramer, Diane O'Connell, founder and editorial director of Write to Sell Your Book, and Michele Rosenthal, author of Before the World Intruded. Susan Gilbert provides evaluation of websites along with VIP coaching for entrepreneurs and businesses.
For more information on Susan Gilbert and for a consultation, please contact Susan Gilbert at 425-200-5590. Also visit her personal blog at susangilbert.com for more information.