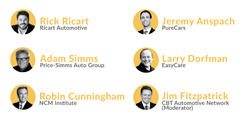 Atlanta, Ga. (PRWEB) December 29, 2014
Best Training Day Ever™ (BTDE) announced the panel members today for the special Certified Pre-Owned (CPO) discussion panel "CPO: Next Generation Strategies" which will take place during the one-day automotive retail training event in San Francisco on January 22, 2015. Sponsored by NCM Associates, the interactive panel will focus on the expansion of pre-owned certification programs to include not only the core vehicles on a franchised dealer's lot, but the other pre-owned makes and models on the lot as well. Panel members include Rick Ricart, Robin Cunningham, Adam Simms, Jeremy Anspach and Larry Dorfman.
Rick Ricart is the General Manager of Ricart Automotive, the largest CPO dealer in the world. Averaging over 550 CPO vehicle sales per month in one location during 2014, Ricart has established himself as an authority on effective CPO marketing of all makes and models. He has the background and expertise to speak to all aspects of CPO, from acquisition and PDI, to inventory control and marketing. Ricart Automotive is a Top 20 Ford dealership with four other franchises that combines all of its pre-owned sales under one roof, "The Used Car Warehouse" in Columbus, OH.
Robin Cunningham of the NCM Institute is one of NCM's most experienced thought leaders regarding pre-owned vehicle sales and processes. His in-depth knowledge of all aspects of the dealership comes from 30 years of automotive retail experience in sales, general management and as a dealer/owner. As part of the NCM Institute's teaching and training team, he brings a tremendous background of studying and teaching all aspects of the automotive business to NCM Institute clients, as well as a tremendous resource in the form of data from NCM to share with the audience.
Adam Simms combines the talents of both an innovative industry visionary and a hands-on operator. Since 2003, Adam has worked alongside Tom Price to grow their Price-Simms auto business to over 15,000 units per year around the San Francisco Bay area. When Price-Simms acquired Toyota Sunnyvale in 2003 it was the 358th largest Toyota dealership in the country. Since then, Adam has led Toyota Sunnyvale to be one of the nation's fastest-growing Toyota stores, now ranking in the top 20 sales volume nationally. Toyota Sunnyvale is one of the top ten online auto retailers in the U.S. Simms also founded iMotors.com, one of the industry's first and largest online used vehicle marketing and sales organizations, and Response Logix, a technology company working with more than 800 dealers and focused on Internet lead response. Digital Airstrike, another of Simms's creations, is the industry-leading social media and reputation management solution serving over 2,000 dealerships nationally, as well as several OEMs. Prior to 2003, Simms served as Vice President of used car operations at AutoNation. His diverse background and significant concentration on the evolution of the used car industry allows him to bring a unique perspective to the "CPO: Next Generation Strategies" panel.
EasyCare®'s CEO and Chairman, Larry Dorfman brings to the panel 30 years' experience in the warranty segment of the automotive industry. EasyCare created the first-ever independent CPO program (EasyCare Certified) in 1996 for Town and Country Ford, now part of Sonic Automotive, and has been a leader in the thought process for certifying other makes and models ever since. Dorfman and EasyCare were instrumental in building highly impactful OEM CPO programs for Ford, Volvo, Land Rover and Jaguar during EasyCare's tenure as a Ford Motor Company subsidiary. EasyCare continues to consult for these programs and build industry-prominent CPO concepts for other makes and models. The company has been working with MOTOR TREND® Magazine since 2008 to deliver the MOTOR TREND Certified Vehicles program to select dealerships across the country. Dorfman's unique approach to combining the disciplined aspects of pre-owned inventory management with creating a distinct differentiated advantage for the dealer's vehicles in the market has helped some of the most successful dealerships in the industry dominate their markets in pre-owned sales while generating higher profits and CSI scores.
Jeremy Anspach, Founder and CEO of PureCars®, led the revolution of online shopping for quality pre-owned vehicles. With over 10 million customers a month using the PureCars platform, Anspach has come to understand the market from every facet. Developer of SmartAdvertising®, Anspach brings a wealth of insight and proactive planning to the discussion about the number one topic currently fascinating the industry.
"CPO: Next Generation Strategies" will be moderated by Jim Fitzpatrick of Car Biz Today (CBT News) during BTDE 2015. Fitzpatrick has a long history in the automotive business, first in retail and most recently in education and advertising. "The open forum is designed to allow everyone to take away valuable information dealers can put to work in their dealerships immediately," said Fitzpatrick. "We want to get the conversation started and are looking for input across the panel as well as from the audience of dealers and managers. This is how we get the most useful input and information for people to take home and apply in their dealerships."
For more information on the Best Training Day Ever, or to take advantage of special Early Bird registration pricing, please visit http://www.besttrainingdayever.com.
About the Best Training Day Ever
The Best Training Day Ever™ 2015 is brought together by a group of high profile partners including EasyCare®, Covideo®, NCM® Associates, Shell Lubricants and PureCars®. The 2015 event will feature Dave Anderson of LearnToLead®, Jeff Cowan of Jeff Cowan's ProTalk, Inc., Alan Ram of Proactive Training Solutions, Inc., Jeremy Anspach of PureCars® and David Spisak of ReverseRisk. Each contributor specializes in a different segment of automotive retail, and will provide training ranging from service, sales, and communications to management, leadership, motivation, internet marketing and business analytics. To learn more, please visit http://www.besttrainingdayever.com.
About CBT Automotive Network
CBT Automotive Network is an online news source dedicated to providing the retail automotive industry with news, information, trends, sales and management training and industry event coverage through various forms of multi-media journalism. The online news source has more than 90,000 subscribers made up of new car dealers and their personnel. CBT Automotive Network is headquartered in Atlanta, Ga. To learn more visit CBTNews.com.
# # #
Contact:
Carol White
cwhite(at)cbtnews.com
678-221-2967