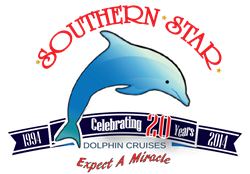 2014 was quiet the year, not only did they celebrate their 20th Anniversary but they had a record breaking year.
Destin, FL (PRWEB) January 15, 2015
Steve and Wendy Wilson, owners of the Southern Star Dolphin Cruise, had a vision more than 20 years ago to start a unique gulf cruising business in Destin, Florida. They wanted a business that would provide stability for their family and also contribute financially, ethically, and spiritually to the local community.
The past year of 2014 was their 20th Anniversary -- and was their best on record! Recently, they launched a Pirate Ship Cruise, which should contribute greatly to their already respected fleet of boats.
Most important to Steve and Wendy is that their business has provided much to the local Florida community that they love and has allowed them to reached far beyond Florida to help support Christian missions to other nations; providing financial support to a loving ministry that digs wells for small communities, provides medicine, equips mission teams, and trains pastors to spread the gospel throughout the world.
Steve and Wendy also team up locally with Food for Thought, which discreetly gives food to children in need. One of their personal goals, in regard to retirement, is to impact the lives of 1 million children instead of merely focusing on their own nest egg. They have made a major pledge to make sure that the entire world knows of the saving grace of Jesus Christ; with the help of Steve and Wendy, the organization "One Hope" has recently reached over 300,000 persons.
No doubt, Steve and Wendy have realized their dreams and have seen for themselves how a loving God combines our skills and abilities with his omnipotent abilities to propel things way beyond our own human imaginations and expectations. Pledging to do even more this year, "One Hope" has a new goal, entitled "2030: Every Child," that will no doubt prove to be an amazing expansion of the Kingdom of God.