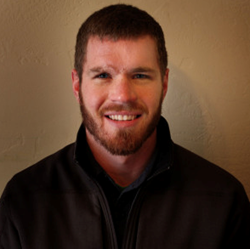 Giving back to the community and promoting growth in others is something B2B focuses on that I have fully incorporated in my own life
Flagstaff, AZ (PRWEB) December 30, 2014
This December 24, 2014 marked residential supervisor and sober living program graduate, Chase Christensen's last day at Back2Basics Outdoor Adventure Therapy.
Christensen was in the third group of residents to ever start the program back in spring of 2011 noted Roy DuPrez, founder and CEO of Back2Basics.
"I really believe the B2B alumni are some of the most loyal and passionate of our staff, " said DuPrez. "Mostly because they are loyal to the system that may have been the catalyst to get them sober long enough to see their lives truly can be better."
Prior to Back2Basic Christensen led a self-destructive life, "I was progressing in a downward spiral and needed structure to help me back up."
After graduating from the Back2Basics six-month program, Christensen was hired on as an outdoor intern, then outdoor guide, then promoted to outdoor supervisor before his last position as residential supervisor.
"Back2Basics provided the structure I needed," he said, "the people working here pushed me to always expect more out of myself. The offer to work for B2B was something I could not refuse. I wanted to give back and help others to have a better life."
Christensen will continue to study business with a concentration in finance and real estate at Colorado State University.
"Giving back to the community and promoting growth in others is something B2B focuses on that I have fully incorporated in my own life," he said. "I hope to continue to hold myself to these standards throughout my new life in Colorado."
According to DuPrez, Christensen's position will be absorbed in a few different directions, which will allow him to get back "on the front lines" and work more hands-on with staff and residents.
"We are filling up and increasing census these next few weeks, so I feel good about the new year, new residents and, of course, Chase's new opportunities, but he will be greatly missed."