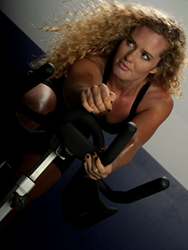 How others see you is not important. How you see yourself means everything.
Tarzana, California (PRWEB) January 07, 2015
Beatbike spinning instructor Bailey Huff wants to inspire people to start the New Year out right by getting fit, eating right, staying healthy and above all... being happy.
Paired with appropriate nutrition, spinning is a major contributor to keeping people healthy and out of the medical care system. Experts agree that exercise in general has always been a mood booster. Seeing positive change in riders is what motivates Bailey.
In January, 2013 Bailey arrived in New York City with nothing but a one-way ticket, two suitcases and a burning desire to become a spinning instructor. Nine months later while teaching at Crank Cycle Studio on the Upper East Side, Rate Your Burn rated Bailey The Most Popular Fitness Instructor in New York City. (October 18th, 2013)
Now Bailey has brought her talents to the popular new spinning studio, Beatbike, in Tarzana, California. Beatbike is the Valley's new spinning destination.
Bailey is a life long athlete who was a basketball star at Montclair Prep in the San Fernando Valley. (You can see Bailey play basketball on youtube) As a freshman she won the Los Angeles Sparks two on two tournament at Staples Center in front of nine thousand fans. Bailey went on to play one year at Santa Barbara City College before breaking her leg in practice. It was during her recovery from the devastating injury and a need to stay in shape that brought Bailey to her love of spinning.
Bailey says, "Spinning is an incredible workout where you get rock hard thighs, carved calves and a tight butt while doing an activity that's freeing, fun and social. Because spinning is a low-impact exercise, your hips and knees are strengthened so you feel better and less beat up after a ride compared to running." When most 24-year-olds are going out at night in Los Angeles, Bailey spends the evening eating healthy, putting her playlists together before getting up at 4:30 am to teach her first class at 6 am. Follow Bailey on facebook (Bailey Huff Health/Beauty) Instagram (instagram.com/misscardioqueen/) and https://www.beatbike.com