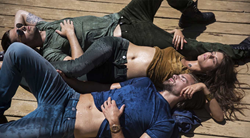 I am very pleased with the new collection and looking forward to shaking up the fashion industry once again.
(PRWEB) December 30, 2014
The legendary designer who brought denim to the forefront of fashion, and whose designs have been worn by millions worldwide, is at it again. Focusing on 1980's aesthetics, the collection is inspired by the past, yet exudes a cutting-edge contemporary look. Its Southern California feel, a standard characteristic of Marciano designs, is revealed in the nine new washes created for both men and women, also available in half sizes.
Marciano concentrated his attention on creating quality denim pieces, as well as classic fitted shirts and tops made with the finest materials. The collection is available in a myriad of modern styles reflecting the trademark designs Marciano is known for.
As the inventor of stone washed jeans, Marciano has without a doubt, a clear vision when it comes to denim and apparel. His attention to detail and his drive to push fashion barriers forward has enabled him to design timeless garments. Keeping up with the modern times, this will be Marciano's first online venture, allowing eager fashionistas' to purchase his quality clothing with the simple click of a button.
Georges Marciano is a lifestyle brand of contemporary apparel and denim. The company takes pride in making handcrafted products without compromising quality.