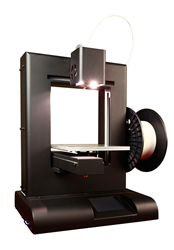 "Our focus is to make an affordable and high quality 3D printer for everyone" said Joseph Wu, president of Green Project
Los Angeles, CA (PRWEB) December 30, 2014
GP3D has announced their first desktop 3D Printer available for production named "Sprout". With an MSRP of $549, Sprout is an affordable, capable, and compact desktop 3D Printer that does not limit the imagination of its users. Come join GP3D as they unveil Sprout at the 2015 International Consumer Electronics Show (CES) in Las Vegas, Nevada from January 6 - 9. GP3D is setting a goal to gain traction for Sprout through the Kickstarter crowd funding program. Sprout's production will immediately begin after the funding goal is met.
"Our focus is to make an affordable and high quality 3D printer for everyone" said Joseph Wu, president of Green Project. Sprout has a metal body with dimensions of 11.7" in length, 8.7" in width, and 15.9" in height making it perfect for a compact desktop 3D Printer. Comparable to its competitors, Sprout has a build plate of 5.9" in length, 5.9" in width, and 5.5" in height. Sprout uses PLA plastic filament, a biodegradable thermoplastic from renewable resources.
Sprout can print at 0.18mm resolution, displaying an immense amount of detail for a printer of its size. Anyone can easily set up Sprout and start printing via SD card or Windows operating systems. GP3D is striving to drive 3D printing closer to home. Sprout is designed in mind to be used by everyone.
Sprout will be available to ship in a few months with full online support at http://www.gp3d.com. The Sprout will debut Tuesday, January 6th at the 2015 International Consumer Electronics Show (Booth 35317, Upper South Hall). For more information about distribution, contact GP3D at (855) 465- 4386 or info(at)gp3d(dot)com.
GP3D
Based in Hacienda Heights, California, GP3D is a subsidiary company of Green Project, Inc. The company's vision is to inspire people of all ages to embrace the next generation of printing. GP3D wants to encourage 3D printing with affordable and practical 3D printers. "Grow your imagination" with GP3D, supplier of premium 3D printers, accessories and filaments.
More information is available at http://www.gp3d.com/news | http://www.gp3d.com/printers