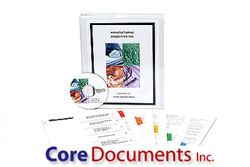 Pay once at Core Documents for IRS and DOL required Section 105 HRA Plan Documents, not every year like our competitors.
Bradenton, FL (PRWEB) December 31, 2014
Core Documents, the nations premier provider of affordable Section 125 Cafeteria and HRA plan documents has reduced the one-time charge for their one-person Section 105 HRA Plan Document from $164 to just $149 for the PDF email version.
Section 105 of the Internal Revenue Code permits a self-employed person to set up a health reimbursement arrangement (HRA) for tax-free repayment of major qualified medical expenses not covered under a health plan. Alternately, that self-employed individual may hire a salaried employee (read: his/her spouse) and offer that employee an HRA. If the latter choice is made, the benefits offered will not only cover the employee, but also his/her spouse and dependents. So if the new hire is the business owner's spouse, what results is effectively a family healthcare expense account.
Most sole proprietors need to hire someone to get this perk. But, it is possible to set up a Section 105 plan without hiring an employee if your business is a C-corp, an S-corp, or an LLC that files its federal tax return as a corporation. In a corporate structure, the corporation is defined as the employer and the business owner is defined as a salaried employee.
The good news is the Affordable Care Act (Obamacare) didn't change the one-person Section 105 options the way it did for 2+ employee HRA plans. When the IRS issued Notice 2013-54 as a follow-up to the Affordable Care Act, most 2+ employee businesses lost the chance to offer a discrete comprehensive medical reimbursement plan. One-employee HRAs are still allowed under Section 105 using group or individual insurance coverage.
Read more: Section 105 Plans - How Microbusinesses Save $5,000 a Year in Taxes
and, Can Business Owners Reimburse Themselves Tax-Free for Health Insurance?
Core Documents has been providing Section 105 HRA plans for small one-person businesses since 1997. See more information about these fringe benefit plans at Core Documents' website: http://www.coredocuments.com, or call toll free 1-888-755-3373.