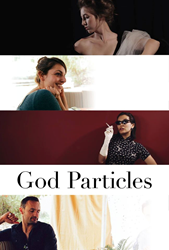 The world's ending but like.. who cares..
Santa Monica, California (PRWEB) December 31, 2014
God Particles is a series of short films that chronicles the days leading up to the creation of the god particle and—quite possibly—the end of the world. With lives intertwined, each of the four parts focuses on a different character played by some of LA's brightest talents: Zoë Chao (series regular on The Comeback,) Julia Wackenheim-Gimple (cast member on Red Band Society), Jack Mikesell (Rizzoli & Isles), as well as Daniel Nemes, Carissa Cash and Claire Kaplan.
The serialized chapters culminate in a dramatic and hilarious ending, revealing the true colors of the somewhat lost, but very present characters. The thought-provoking narrative leaves viewers questioning their own end-of-days priorities and pondering bigger questions about existence and purpose.
God Particles is available to view online at GodParticles.tv
Would you in interested in a feature story about God Particles? Creator Leland Montgomery is available for interview. Contact watchgodparticles(at)gmail.com.
God Particles is on social media. We'd appreciate your tweets and have provided a few for your convenience:
Apocalyptic comedy #GodParticles puts LA's Millenials in the hot seat. Available for online view here: http://www.godparticles.tv/
Watch filmmaker @Lmontgom1's 4-part web series #GodParticles online now. http://www.godparticles.tv/
Watch the web series everyone's talking about! What would Millenials do at the end of the world? #GodParticles http://www.godparticles.tv/