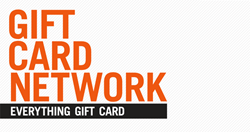 "The very things that gift card offers consumers- choice, brand commitment, and a feeling of being rewarded- that's the kind of experience GCN members can have. It's a powerful force." - Matt Davies, Powerhouse Brands Consulting
Vancouver, WA (PRWEB) January 21, 2015
Everyone wants to be rewarded, and there is no industry that understands that better than the gift card industry. Gift cards are the star of countless loyalty programs, from credit card rewards to hotel and travel "points," or "miles" programs.
The Gift Card Network relies on its members to contribute their expertise, time, and resources to help generate education, best practice, and promotional content to better inform people about the benefits of gift cards and what products and services are available.
As a tribute to loyalty programs everywhere, and as a very literal way to thank its members for making time and monetary sacrifices to support the membership and industry as a whole, the Gift Card Network has introduced its own membership loyalty program.
In 2013, the Gift Card Network partnered with Powerhouse Brands, a gift card program management and media creation firm (and also a founder of the network) to offer GCN points to its members when they joined at different levels of membership. The points are then redeemable for design and video production services, with the intent to subsidize its member's ability to generate content for the online platform.
The response to this approach was so positive amongst members that additional point "spend" opportunities were created, and demand for those opportunities increased exponentially.
"Introducing points changed the entire dynamic for the better," said Martha Weaver, Director of the Gift Card Network, "All of a sudden, there were defined benefits for different levels, and we were able to get feedback from the members on the kinds of opportunities they wanted to spend points on. Giving people a reason to interact with us at a deeper level moved us forward faster than ever before."
Members can earn points in a variety of ways, including their initial level of investment, their participation on committees, sponsoring or hosting events, or contributing to content creation. They can then spend points to generate articles, white papers, or video projects with the media partner, or gain exposure for their company and content via traditional media placements in the Gift Card Network print or digital publications.
The Gift Card Network has grown to over 290 brands and companies since its launch with ten founding members in July, 2011, and is the largest gift card focused media and collaboration platform in the world. Details about the Gift Card Network's levels and point program are available here.
About the Gift Card Network:
The Gift Card Network is the first gift card-specific marketing and collaboration platform. The network focuses on the identification of vital issues in the gift card industry and empowering its members to address these issues using connection, collaboration, and creativity. Members include companies that focus on the gift card industry. Find Everything Gift Card at thegiftcardnetwork.com.
About Powerhouse Brands:
Powerhouse Brands is a gift card management firm, specifically focused on providing consulting, management, marketing, and media creation services to the gift card industry. Visit powerhousebrands.com for more information.