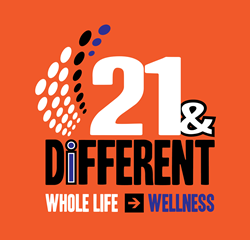 Our article offers some great insight on how to stay strong-willed in the face of temptation.
Weatherford, TX (PRWEB) December 30, 2014
21&Different, a productivity app created by marketing and advertising agency, Western Unlimited, created a light-hearted, yet practical Buzzfeed article to further encourage whole life wellness. 21&Different is an app intended to assist in overall wellness and self-improvement through daily tasks and good habit formation. Users are challenged to establish and maintain simple, healthy habits in key areas of their life. The app serves as a guide to help develop a positive and personal transformation over the course of 21 days.
"We realize, in our busy lives, it's tough to make even the smallest changes in our every day habits," said Scott Davis, CEO of 21&Different. Our article, '5 Ways to Help You Achieve Your New Years' Resolutions' offers great insight on how to stay strong-willed in the face of temptation."
"5 Ways to Help You Achieve Your New Years' Resolutions", offers useful suggestions on how to step toward achievable goals. These tips, paired with the inclusion of 21&Different, encourage users to set small but attainable goals that can be shared once finished. The app boasts that completion of all tasks within the 21 days will result in successful habit forming practice and promotion of overall wellness. To coincide with the new year, 21&Different is offering a "New Year's Resolution 2015 Special" wherein it's in-app premium purchase is reduced from $3.99 to $1.99 until Jan 5, 2015 to encourage users to take the full 21&Different Challenge for 2015 new year's resolutions.
25% of net proceeds received from all in-app premium purchases will be donated to U.M. ARMY (United Methodist Action Reach-out Mission by Youth) who provide over 2000 projects annually to the homes of disadvantaged. Read more at http://www.umarmy.org.
"21&Different is a tool to prove how simple tasks can easily transform into positive, life-changing habits," said Davis. "Our guarantee is that after the 21 day challenge, you will be different."
Users can also visit the social media group, #21&Diff, to watch reflection videos, submit their own transformation reflections, as well as encourage others to join the challenge.
21&Different is available now in the iTunes App Store, for more information, visit: http://www.21anddifferent.com.
ABOUT:
With a fifteen history in Marketing, specific to the Western Lifestyles segment, Western Unlimited founder Scott Davis became very intrigued with the developments and growth of mobile applications. As an avid self-improvement enthusiast, Scott developed a concept in 2012 to help improve the dismal rate of success regarding individuals who participate in "new year's resolutions" annually with hopes to introduce it to the public through a mobile application. After over 12 months in research and development, while engaging renowned Application developer AVAI Mobile Solutions in Austin, Texas, alongside app marketing agency APPSPIRE.me, Western Unlimited has launched its first mobile application with 21&Different. This ground breaking App is poised to "Revolutionize new year's resolutions" in 2015 and for years to come.