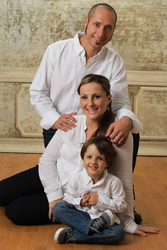 Save the excuses. It's not about "having" time. It's about making time. If it matters, you will make time.
San Diego, CA (PRWEB) December 30, 2014
Bill Howe Family of Companies has been one of the largest low-cost service companies since 1980. With over 140 employees in San Diego heating & air conditioning, plumbing and water damage services, the company is able to offer the community a one-stop shop for home services. The truly family owned and operated company is headed by Bill and Tina Howe, two of their daughters and one niece in leading roles. They carry out their own family values and ethics including community service initiatives and the promotion of fit and active lifestyles.
Jaime Howe-Stolis, the oldest Howe daughter and first to join the family business, has much to celebrate at the end of 2014. In addition to her continued advancement at the San Diego plumbing company, she celebrated her 30th birthday and was named as the "Athlete of the Month" in December by CrossFit 619. She and her husband, Brendan, also received the good news that they will once again be parents with their second child, a little girl, due in April 2015.
Jaime is the current Operations Manager for the San Diego plumbing company, and has been involved in CroissFit since February 2012. At CrossFit 619, she found a community that resonated with her own values and priorities and has not looked back since joining. During the last two years, she has far exceeded her own initial fitness goals by making it to the 2014 CrossFit Games Regional competition. Jaime pushed herself every day during the Open selection process for the 2014 CrossFit Games in order to make it to Regionals (only 48 women out of the entire Southern California Region make it). Although she did not advance with the top 3 to the CrossFit Games, she ranked 18th overall in the SoCal Regionals and was supported by her teammates at 619, her family and the employees at the Bill Howe Family of Companies.
Jaime grew up as a competitive gymnast, earning a scholarship to attend California State University, Fullerton for her achievements. She carries the same work ethic from her gymnastic career, Cross Fit experience and values as a mother into her daily operations at her family's San Diego plumbing company, "Save the excuses. It's not about "having" time. It's about making time. If it matters, you will make time," Jaime Howe-Stolis says. "Building and sticking to a routine and being a part of a solid community allows me to accomplish everything that is important into the 24-hour day and makes me a stronger leader and able to take care of our customers and employees."
For the full article on Jaime at CrossFit619, visit their blog at http://www.crossfit619.com/jaime-stolis-athlete-of-the-month
For more information about the Bill Howe Family of Companies, visit http://www.billhowe.com, or to speak with Bill or Tina Howe regarding this announcement, contact Bill Howe Marketing Director, Julie Riddle at Julie(at)billhowe(dot)com.
About Bill Howe Family of Companies
Bill Howe Family of Companies is comprised of Bill Howe Plumbing, Inc.; Bill Howe Heating & Air Conditioning, Inc.; Bill Howe Restoration & Flood Services, Inc. The family-owned and operated company began in 1980 with the plumbing division and has grown into San Diego County's largest low-cost one-stop-shop for service, repairs and installation, offering both residential and commercial services. 9085 Aero Drive, Suite B, San Diego CA 92123. Call 1-800-BILL-HOWE because We Know Howe!
###