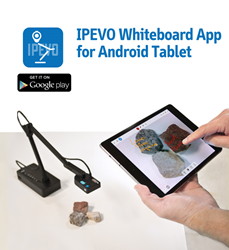 Whether you use iOS or Android, chances are you'll find a myriad of uses for IPEVO Whiteboard.
Sunnyvale, CA (PRWEB) December 30, 2014
The Whiteboard app from ed tech company IPEVO helps educators share and annotate their teaching material. Whiteboard has long been available for the Apple iPad, but now IPEVO has made a new version of the popular annotation software which is compatible with Android tablets. IPEVO Whiteboard for Android is available at no cost through the Google Play store.
The IPEVO Whiteboard app provides intuitive drawing tools – such as lines and multiple colors – which annotate and emphasize teaching material in order to clarify and enhance lessons and presentations. The user is able to create different "boards" within the Whiteboard application using a plain white background, an image from a photo library, and more. These boards can be drawn upon, switched between, and saved for future reference.
While IPEVO Whiteboard is useful as a standalone application, it is also often used in classroom environments when paired with one of IPEVO's signature document cameras such as the iZiggi-HD wireless doc cam. Non-wireless IPEVO doc cams, such as the Point 2 View USB doc cam, can be displayed on Whiteboard using a separate device, the WS-01 Wireless Station. In the classroom, a doc cam serves to capture and display real-time video of documents, artwork, 3D objects, and devices with screens. With the newest version of Whiteboard for Android, an IPEVO doc cam can be paired with an Android device in order to present the doc cam's capture as the background for a board. The user can then draw on top of the captured material for annotation purposes.
At present, the Android version of Whiteboard features fewer tools than the iPad version. While users accustomed to the iPad version will recognize the interface and basic tools such as pointer, free draw and the eraser tool, certain other features are not currently available on the Android version. These include text boxes, shapes, and the ability to record video.
"Whiteboard is all about giving educators more ways to effectively reach their students," said Royce Hong, CEO of IPEVO. "In that spirit, we're pleased to be able to give educators one more way to use Whiteboard. Whether you use iOS or Android, chances are you'll find a myriad of uses for IPEVO Whiteboard. It's simple to use and can be utilized in a matter of seconds. But more than that, Whiteboard helps educators put the proper focus on what's important. In short, Whiteboard helps make teaching material come alive."
The IPEVO Whiteboard annotation app is available for iOS through the App Store and is now available for Android tablets through the Google Play store. Both versions are free to download and use.
About IPEVO
IPEVO designs and sells innovative products to enrich today's connected lifestyle. We recognize the immense potential of new technologies to help people create, teach, learn, and inspire. From classroom to living room to conference room, IPEVO is dedicated to making technology more available, accessible, and affordable for all.
For more information, visit http://www.ipevo.com.