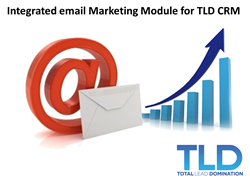 Miami, Florida (PRWEB) December 30, 2014
Total Lead Domination (TLD) CRM has just released its new email marketing module which is integrated into the TLD CRM system. The new email module automatically sends emails based on customer date and status changes in the CRM such as renewals, payment issues, reminders, and welcome letters.
The system is designed for high volume call center use and agencies can send up to 25,000 emails per day or more with a custom configuration. The economy package offers up to 1,000 emails per day for just $79 per month and unlimited database contacts (requires TLD CRM subscription) which is a fraction of the cost of using Constant Contact or Mailchimp.
TLD CRM email Marketing Module Features

email drip campaigns based on customer date or status changes in CRM
Welcome emails, renewals, payment issues, new offer emails to clients
Supports text emails or HTML templates with logos and graphics
Starting package up to 1,000 emails per day $79 per month (with CRM subscription)
Users can create new campaigns
Users can edit and create new email templates
Can Spam Act compliant: has automatic Opt Out, Privacy Policy section, and automatic bounce management
TLD is designed with the small to mid size agency in mind. It is browser based and does not require an onsite server or any software other than standard Internet browsers such as Chrome or Firefox and can run on a basic PC and office network. A major benefit is that the system does not require an on site IT Administrator to manage the system. Office owners and managers can manage the day to day system operations including adding users, adding lead vendors, adding policy carriers, etc. without an IT Administrator.
TLD CRM includes a manual power dialer and is compatible with both the Genesis and Five 9 automated progressive dialers. The system is also compatible with major lead vendors and automatically downloads and posts leads to the dialers. This powerful call center solution delivers optimum outbound call performance with the lowest possible cost per call.
TLD CRM also offers real time reporting including phone activity, real time sales and lead transactions, and agent benchmark comparison. The integrated phone system also offers digital recording of verification phone calls.
TLD CRM is available to insurance sales and call centers nationwide starting at $65 per user for the CRM with no minimum number of licenses and no long term contracts.
About TLD CRM
TLD CRM, LLC was formed by Esotech and private investors to create an insurance industry CRM platform for small and mid sized agencies.