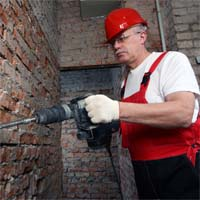 A considerable proportion of pleural mesotheliomas occur...not only in jobs traditionally associated with asbestos exposure
(PRWEB) December 31, 2014
New research conducted at Umea University in Sweden suggests that it may not be possible to fully protect construction workers against mesothelioma. An article on the research has just been published on the Surviving Mesothelioma website. Click here to read it now.
Scientists at the University's Department of Public Health and Clinical Medicine analyzed the cases of 419 Swedish construction workers who were diagnosed with mesothelioma between 1972 and 2009.
"In Sweden a considerable proportion of pleural mesotheliomas occur among construction workers, and not only in jobs traditionally associated with asbestos exposure such as insulators and plumbers but also among electricians, for example," write authors Bengt Jarvholm, MD, PhD, and Anders Englund, MD, PhD.
The article published in the American Journal of Industrial Medicine concludes that the safe handling of asbestos "is a very difficult or even impossible task in the construction industry."
"This study is another sobering reminder of the vulnerability of construction workers," says Alex Strauss, Managing Editor of Surviving Mesothelioma. "With so many people potentially at-risk for mesothelioma, the results suggest that the current OSHA guidelines designed to protect workers may not go far enough."
For the details of the study, including which types of workers were found to be most likely to contract mesothelioma, see Construction Workers and Mesothelioma: Is Protection Really Possible? Now available on the Surviving Mesothelioma website.
Jarvholm, B and Englund, A, "The impact of asbestos exposure in Swedish construction workers", American Journal of Industrial Medicine, January 2014, pp. 49-55, http://onlinelibrary.wiley.com/doi/10.1002/ajim.22264/abstract
For nearly ten years, Surviving Mesothelioma has brought readers the most important and ground-breaking news on the causes, diagnosis and treatment of mesothelioma. All Surviving Mesothelioma news is gathered and reported directly from the peer-reviewed medical literature. Written for patients and their loved ones, Surviving Mesothelioma news helps families make more informed decisions.