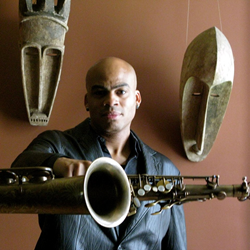 New York, NY (PRWEB) December 30, 2014
Ellen Kaye of Moscow 57 and Mark A. Payne of Harlem River Music (HRM) have announced a new collaboration. Payne and Ellen met many years ago through their mutual friend, improvisational jazz vocalist Cleve Douglass. It was Payne who introduced Ellen and her partners Seth Goldman and Ethan Fein to the Urban garden Center a few years ago, where Moscow 57 held its successful summer-long pop-up Urban Salon, "Moscow 57 Under the Tracks."
Now, Harlem River Music and Moscow 57 will co-present a new monthly series of "Intimate Evenings with Wayne Escoffery," one Sunday a month, and a series of weekly Late Night gigs every Friday featuring the Oran Etkin Trio and every Saturday with Dakota McLeod and Ray Naccari.
"An Intimate Evening with Wayne Escoffery" will kick off January 4th. There will be two sets of the "Intimate Evening" series one Sunday a month, at 7:30 and 9:30, with a $10 cover per person, per set. The second "Intimate Evening with Wayne Escoffery" will be February 15th. The weekly Late Night Sets on Fridays and Saturdays will begin at 11:30pm.
These concerts will be at Moscow 57 168 ½ Delancey Street, on New York City's Lower East Side. For more information and reservations, contact Moscow 57 at 212-260-5775.
About Wayne Escoffery
Since moving to NYC in 2000, London born, Grammy Award winning tenor saxophonist, Wayne Escoffery has become one of the Jazz world's most talented rising stars and in-demand sidemen. At only 38, he has recorded eight CD's as a leader and been featured on numerous recordings as a sideman. Escoffery began his professional career touring and recording with the Eric Reed Septet. In 2001 he joined the Lonnie Plaxico Group and Abdulah Ibrahim's Akaya. At that time he also became and continues to be a steady member of the Mingus Dynasty, Orchestra and the 2011 Grammy Award Winning Mingus Big Band, still running at Jazz Standard on Monday Nights.
About Oran Etkin
Oran Etkin has been described as a "great clarinet player" and "an excellent improviser" by the New York Times music critic Ben Ratliff and a "composer of eminent individuality" by his mentor and teacher, the legendary Yusef Lateef. His music is featured on several CDs, including a GRAMMY Award winning compilation CD "All About Bullies" the GRAMMY Nominated album, Healthy Food For Thought, where Etkin's music appears alongside tracks by Russell Simmons, Moby and Sweet Honey In The Rock; and the Parent's Choice Gold Award winning Putumayo Kids Jazz Playground. Etkin's latest album, Gathering Light, features his trio with Nasheet Waits and Ben Allison plus guests Lionel Loueke and Curtis Fowlkes.
Etkin's unique sound on the sax, clarinet and bass-clarinet emanates from an openness to discovery in the world, in himself and within his music. The Irish Times observed that "Oran Etkin is a musician with his ears wide open, absorbing influences from West Africa, the Far East and Europe... this is world music in the true sense, not a lazy hybrid but a personal sound born out of deep respect for diverse musical traditions."
Oran continues the tradition of music education through a groundbreaking new method of teaching music called Timbalooloo. This method has been endorsed by Harvey Keitel, Naomi Watts, Liev Schreiber, Edie Falco and Ken Burns,- all of whom have enrolled their children in Timbalooloo Music Classes.
Oran performed around the world with his own groups as well as such musicians as Mike Stern, Gonzalo Rubalcaba and Wyclef Jean. Etkin has developed a unique sound on the clarinet, bass-clarinet and saxophone that draws on ancient traditions from Africa, Israel, New Orleans and beyond, yet resonates with the driving energy of the current New York jazz scene.
About Dakota Mac Leod
Dakota Mac Leod is a vocalist and teacher who sings in all styles from classical to jazz to R&B and funk. As vocalist and contractor with the bands Brooklyn Soul Train and Nytehawke, she has performed at venues such as Dizzy's Club Coca Cola, B. Smith's, the Blue Note, Birdland, Lenox Lounge and Copeland's. Dakota was a lead vocalist for the Miss New York State Pageant for 8 years and worked as a singer/dancer for 6 years for major hotel chains in a Las Vegas-style show. She sang with the BBC Orchestra for the 2007 production of Chapman Roberts' "The Gospel According to Broadway," "The Hackney Empire Theatre" in London, in "Chap Am So" at the Henry Street Theatre and in "Broadway Soul" at New World Stages. Dakota co-starred with Shirley Stewart Farmer in "Two Sopranos Sing Opera to Blues" at Carnegie Hall.
About Ray Naccari
Ray Naccari is a musician, arranger, music producer and engineer. He has performed live with Jennifer Holliday at the Blue Note, Gloria Gaynor, B.J. Crosby, at Dizzy's Club Coca Cola with Benny Golson, perdormed Clair de Lune as Carnegie Hall as part of the concert Two Sopranos Sing Opera to Blues, for which he was musical director, and as part of the band Nytehawke at such venues as the Blue Note, Lenox Lounge, Birdland, B. Smith's and Frank's Waterside. Ray also playes with Ryo Kawasaki on Bet Jazz Central.
Naccari played piano and /or keys, arranged for Bob Marley: "Soul Almighty" The Formative Years, for Shania Twain "The Beginnings," arranged and programmed "Holiday" for Cool and the Gang, and also worked for Sesame Street and composed and performed for the animated "BJ and the Bears." Ray also performed in numerous commercials and soloed with the BBC orchestra in London.
About Harlem River Music
Mark A. Payne (aka "Payne") started Harlem River Music just a few short weeks after leaving his tenure at Danny Meyer's famed Blue Smoke & Jazz Standard, where Payne was their first "jazz club manager" (to manage the club exclusively). Along with successfully running a full kitchen, dining room and bar and a very large staff, he also was the HOST (in true Danny Meyer style) to the artists who played the room. This was already Payne's M.O. when he had earlier booked and hosted several rooms around NYC, Including his Series "The 8th note" at East of Eighth Restaurant on West 23rd Street and maintaining an awesome 4-day-a-week jazz program at Mannahatta on the Bowery. He always made sure that every artist was treated as honored guests, not mere "performers". Mark has worked with several artists and club owners alike, bringing his signature, high-quality programming to rooms all around NYC.
About Moscow 57
Moscow 57 is a Russian Central Asian restaurant from a New Yorker's perspective, with live music nightly at 168 ½ Delancey Street. Owner Ellen Kaye's parents, Faith Stewart-Gordon and Sidney Kaye, owned the Russian Tea Room from 1947 to 1996.
Ellen performs nightly with Ethan Fein and the M57 Band. Special guest artists appear each night performing an eclectic mix of blues, jazz, folk, world music and rock.
Moscow 57, the hospitality and entertainment company, was launched several years ago by partners Ellen Kaye, Seth Goldman and Ethan Fein. For the past two years, the company has been hosting its M57 Urban Salons, evenings of music, food and digital visual art displays, in Harlem; Washington Heights; Chelsea; the Upper East Side; the East Village; Governors Island; New Milford, Connecticut; and New Orleans.
Moscow 57 has made New Orleans a home away from home, with regular forays into that city's world-renowned culture of Southern hospitality, regional cuisine, and world-class entertainment. After performing at and co-producing events with New York's Corcho Wine Room, as well as celebrating Latin American culture in New Orleans, this cosmopolitan attitude is being brought to Moscow 57's permanent home on New York City's Lower East Side every night. Moscow 57 Entertaining, created in partnership with Ethan Fein, is developing projects for film, television and theater.
Moscow 57's first CD releases have already garnered national radio airplay, and the company's videos can be seen on the Moscow57Entertaining YouTube channel.
M57 Straight From Delancey, their radio show with a live audience from the restaurant, aired Sunday nights at 7:00pm on WVOX 1460 AM and is archived at http://www.moscow57.com