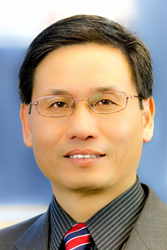 Minimal invasive chin augmentation is a safe and effective way to create natural result.
Minneapolis, MN (PRWEB) December 31, 2014
People who are prepared to commit to a full facial surgery may not realize that a chin alteration can make a huge difference. Cosmetic surgeon, Dr. Steven Shu of Shu Cosmetic Surgery, is now offering minimal invasive chin augmentation as part of his facial rejuvenation procedures.
The chin implant surgery was traditionally a popular type of cosmetic surgery, however there can be a few risks involved in going through this surgery, such as dislodging or malrotation of implants, mental nerve damage, bleeding and infection. Moreover, many patients who have a traditional chin implant are not happy with their surgical outcome due to the rigidness of implants and unnatural feeling.
Minimal invasive chin augmentation procedure is a simple procedure that uses safe and effective dermal fillers or autologous fat to create a better balance to an individual's facial makeup.
"Patients who aren't pleased with the appearance of their chin, but don't want to undergo a surgical implant procedure, will benefit from this approach," says Dr.Shu. "Minimal invasive chin augmentation offers a quick and natural chin augmentation."
During a nonsurgical chin augmentation, Dr. Shu uses one of two injectable dermal fillers - RADIESSE or Juvederm - to increase chin prominence. The process is relatively painless, quick and comes with no downtime. Patients can usually return to their normal activity immediately after receiving the injections.
If the patients choose the natural fat transfer chin augmentation, liposuction will be performed under local anesthesia, and then the fat will be harvested and processed. These autologous fat cells are injected into the patient's chin to naturally augment its size and improve shape without using implants.
"One of the main benefits of the modern fat transfer procedure is the high fat survival rate, which helps ensure a higher overall success rate for the procedure," says Dr. Shu. "Although natural fat transfer chin augmentation creates a long-lasting result, chin augmentation with dermal fillers do not produce permanent results, and they will have to be done once a year, while RADIESSE may last up to two years."
People may notice a recessive-looking chin more from a side view with a camera and video recorder than staring into a mirror. A recessive-looking chin can make the lower section of a person's face appear out of proportion and weak. However, a chin augmentation procedure can turn a weak or nearly invisible chin into a noticeable, prominent facial structure.
About Dr. Shu and Shu Cosmetic Surgery
Steven Shu, MD, MBA, is a board certified laser surgeon and an expert in office cosmetic surgeries in Minnesota. He is a member of the American Academy of Cosmetic Surgery and has adopted many advanced cosmetic surgery techniques to achieve ideal results with more efficiency and safety. Shu Cosmetic Surgery offers a full line of cosmetic surgery services. All cosmetic procedures are performed in the accredited private surgical center in Edina, Minnesota. For more information on Shu Cosmetic Surgery, please visit the center's website at http://www.shucosmeticsurgery.com or http://www.rejuvelaser.com.
Contact: Steven Shu, MD, MBA
Email: info(AT)shuMD.com
Phone #: 952-922-9999