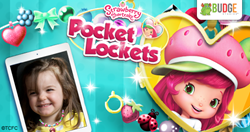 Montreal, Canada (PRWEB) September 18, 2014
Budge Studios™, the world's leading 'freemium' kids app company, and AG Properties (AGP), the intellectual property and outbound licensing division of American Greetings Corporation, announced today the release of their latest app, Strawberry Shortcake™ Pocket Lockets. The app invites children to join Strawberry Shortcake™ and her berry best friends for a jewelry-making party, creating and personalizing virtual friendship necklaces. The digital world meets real life fun at Budge Studios' upcoming app launch party, inviting Strawberry Shortcake fans everywhere to join the celebration!
Strawberry Shortcake Pocket Lockets app allows you to:

Choose fun and fruity beads, chains and lockets in a variety of shapes and colors
Drag and place beads onto your necklace to create cool patterns and spell out your name
Take your berry own photo to use in the locket, or use a picture of Strawberry and her friends
Try on your necklace by taking a selfie, or make one for a friend
Unlock surprise beads and pendants by creating more necklaces
To celebrate this exciting new app, Budge Studios is hosting their first kids app party next month; local families are invited to a VIP afterschool party featuring tons of berry fun app-tivities.
Strawberry Shortcake fans who can't make it in person are invited to participate from home by downloading the app and posting original jewelry creations to social media using #BudgeParty. Strawberry Shortcake herself will be taking over Budge Studios' Twitter account sharing Pocket Lockets submissions and responding to fan-tweets.
But that's not all…there are "sur-prizes" too!
Parents and guardians are invited to enter in the Strawberry Shortcake Sweepstakes for a chance to win the ultimate Pocket Lockets Prize-Pack, filled with toys, books and treats from Penguin Young Readers Group and good2grow™. The lucky winner will be announced on Twitter and Facebook during the party!
Join #BudgeParty - RSVP Today!
Budge App Party Featuring Strawberry Shortcake Pocket Lockets
Date: October 9, 2014
Time: 4:30-6:30 p.m. EDT
Live tweet hosted by Strawberry Shortcake - #BudgeParty
For more information on #BudgeParty and how you can participate, visit the Facebook Event: http://bit.ly/BudgeParty
Enter the Strawberry Shortcake Sweepstakes today for a chance to win the ultimate Pocket Lockets Prize Pack: http://bit.ly/PocketLockets
Strawberry Shortcake Pocket Lockets is now available for free with in-app purchases on the App Store for iPhone®, iPad®, and iPod® touch or at http://www.itunes.com/appstore. The Android version is coming soon.
App Store: http://itunes.apple.com/app/id897995376
App Trailer: http://youtu.be/rn8dtgMXvO8
About Budge Studios™
Budge Studios leads the industry by providing entertaining apps for kids through innovation and creativity. We develop and publish apps for smartphones and tablets played by millions of children worldwide featuring high profile properties such as Crayola®, Strawberry Shortcake™, Care Bears™, Caillou®, Chuggington™ and more! For more information, visit http://www.budgestudios.com or connect with us on Facebook, Twitter and LinkedIn.
About American Greetings Corporation
For more than 100 years, American Greetings Corporation has been a creator and manufacturer of innovative social expression products that assist consumers in enhancing their relationships to create happiness, laughter and love. The Company's major greeting card lines are American Greetings, Carlton Cards, Gibson, Recycled Paper Greetings and Papyrus, and other paper product offerings include DesignWare party goods and American Greetings and Plus Mark gift-wrap and boxed cards. American Greetings also has one of the largest collections of greetings on the Web, including greeting cards available at Cardstore.com and electronic greeting cards available at AmericanGreetings.com. In addition to its product lines, American Greetings also creates and licenses popular character brands through the AG Properties group. Headquartered in Cleveland, Ohio, American Greetings generates annual revenue of approximately $2 billion, and its products can be found in retail outlets worldwide. For more information on the Company, visit http://corporate.americangreetings.com.
About AG Properties
AG Properties (AGP) is the intellectual property and outbound licensing division of American Greetings Corporation. Built upon the successful re-launches of Care Bears™ and Strawberry Shortcake™ licensed products, AGP develops multi-platform campaigns for its properties through digital media, entertainment, marketing and merchandising. In addition to Care Bears and Strawberry Shortcake, AGP's active classic brands include Holly Hobbie™ and Madballs™, as well as new properties Boofle™, Packages from Planet X™ and Twisted Whiskers™. Children can experience AGP online at http://www.agkidzone.com. For more information on AGP, visit http://www.agpbrands.com.
About Penguin Young Readers Group is one of the leading children's book publishers in the United States. The company owns a wide range of imprints and trademarks including Dial Books, Dutton, Grosset & Dunlap, Philomel, Puffin, Speak, Firebird, G. P. Putnam's Sons, Viking, Razorbill, and Frederick Warne. These imprints are home to such award-winning, New York Times- bestselling authors as, Laurie Halse Anderson, Jay Asher, Judy Blume, Jan Brett, Eric Carle, Ally Condie, Roald Dahl, Tomie dePaola, Sarah Dessen, Anna Dewdney, John Flanagan, John Green, Anthony Horowitz, Oliver Jeffers, Mike Lupica, Richelle Mead, Richard Peck, Patricia Polacco, and dozens of other popular authors. Penguin Young Readers Group is also the proud publisher of perennial brand franchises such as The Little Engine That Could, the Nancy Drew and Hardy Boys series, Peter Rabbit, Spot, the Classic Winnie the Pooh, The Very Hungry Caterpillar, Strega Nona, Madeline, Mad Libs, Alex Rider, the Rangers Apprentice, Skippyjon Jones, Flower Fairies, and Pippi Longstocking, among many others. Penguin Young Readers Group is a division of Penguin Group LLC, a Penguin Random House company.
About good2grow™
good2grow™ is an innovative line of healthy children's beverages featuring popular character tops that make nutritional products fun for kids to drink. good2grow™ is a family owned and operated company committed to creating wholesome drinks with the freshest, most nutritious ingredients available in irresistible packaging kids love. good2grow™ top-quality juices are available is a variety of juice combinations and flavors available in both single serve and refill packs. And, the unique good2grow character tops feature patented spill-proof SippaTops™ that gives kids more independence – and parents more peace of mind. Nutritious, fun-to-drink, no-spill good2grow™ beverages are almost too good to be true.
Apple, the Apple logo, iPhone, iPod and iPad are registered trademarks of Apple Inc. in the U.S. and/or other countries.