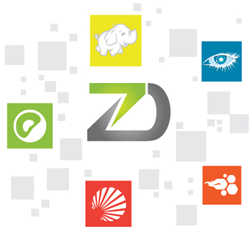 San Franciso, Calif (PRWEB) March 10, 2014
zData Inc. is announcing Big Data-as-a-Service for the enterprise. With GemFire XD, Pivotal Greenplum and Hadoop at the top of the stack.
The enterprise considering moving their big data infrastructure to the cloud need more than just a hosted database solution. They need an agile, full-stack offering that allows their internal data science and analytical teams to collaborate and quickly iterate their ideas without overburdening IT. zData's new Big Data-as-a-service (BDaaS) offering provides three components that make this a reality on premise and off:
1. Infrastructure and technology capable of storing massive amounts of data,
2. Enterprise tools with the ability to analyze and report on the Big data technologies rapidly developing in the marketplace,
3. The ability for teams to share their reports, analysis and datasets across their organization.
Contrary to current thought, the technology itself is not responsible for creating the momentum around Big Data; in reality the driving factor is the growing urgency for businesses to extract actionable value from their data. Too often organizations hire engineers and procure servers before they know how much data they plan to store or how much processing power is required to derive insights. With zData's BDaaS, businesses can get up and running with fully supported hardware, software and services within days of making the decision to utilize Big Data.
While organizations struggle to put together the right software and hardware combination zData takes the engineering and guesswork out of it. They provide solutions that combine both open source and proprietary software that tailor to any need and price point. zData has partnered with leading infrastructure, database and analytics vendors to provide organizations with the highest level of integration and compatibility in the market.
zData Inc. is pioneering this new SOA platform with guaranteed SLA's, simple and competitive all- inclusive pricing models and best in class customer service and support. If you love the idea of Big Data and don't know where to start visit us at http://www.zdatainc.com.