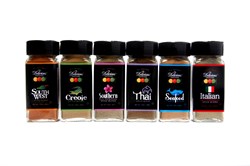 "I am on a low-sodium diet, so I always use The Delicious Dietitian spices!" - Adam Glassman
Mobile, AL (PRWEB) February 11, 2014
Lifestyle guru Oprah Winfrey celebrates the piquant flavors of The Delicious Dietitian Complete Spice Package in her Wellness Edition of the O List in February's O, the Oprah Magazine.
"Go ahead, sprinkle with abandon," the magazine advises, highlighting The Delicious Dietitian's all natural flavors in a complete set that features salt-free, sugar-free, gluten-free spice blends perfect for a variety of cuisines: Southern, Southwest, Seafood, Thai, Creole and Italian. During February, O readers enjoy a 20% discount with code OPRAH on their first order of The Delicious Dietitian spice blends (and their equally fresh and flavorful fruit wine vinegars).
"Last year we took our spice blends and wine vinegars to an international gourmet food show, where we were lucky enough to meet Adam Glassman, creative director of O," said The Delicious Dietitian founder Jen Neese. "He complimented the beauty and simplicity of our products, immediately cheered our no-sodium approach, and quickly became a regular customer."
"I am on a low-sodium diet, so I always use The Delicious Dietitian spices!" Glassman added.
Neese, a nationally recognized dietitian with a minor in biochemistry who began her career at Cooking Light, created salt-free, sugar-free, gluten-free spice blends and wine vinegars that she could put in patients' hands when she counseled them at an old kitchen table in her first office in Mobile, Alabama in 2009. Since then, The Delicious Dietitian has grown to a staff of dozens who counsel thousands of patients, allowing many to reduce or eliminate their need for medications for high blood pressure, cholesterol, and diabetes – and Neese has always kept "delicious" at the forefront.
"We are so pleased that Oprah Winfrey and Adam Glassman, who pioneered the use of real women in O Magazine's fashion pages, are using and championing The Delicious Dietitian. Our spices are simple enough for anyone to use – just switch your salt shaker with one of our zesty blends. Our motto is 'real nutrition for real people' and our goal, since day one, has been to show the nation how we can eat healthy, be healthy and still have taste and flavor in our life," she said.
To learn more, call 1-800-876-3230, or visit http://www.4tdd.com.
About The Delicious Dietitian
The Delicious Dietitian provides real nutrition solutions that work for real people. For anyone looking to add flavor without fat or harmful additives, The Delicious Dietitian offers wine vinegars and spice blends that are simple to use: just order, open and shake. Countless recipes using their products are available at http://www.4tdd.com, where visitors can also make appointments to work one-on-one with registered dietitians, who counsel patients and their families to shop for and prepare meals that meet specific nutritional goals, from losing a few pounds to living with chronic conditions. For more information about The Delicious Dietitian's products and services, visit http://www.4tdd.com or find them on Facebook or Twitter.