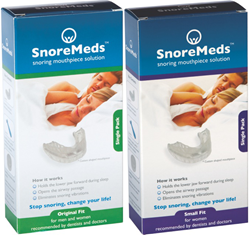 A custom-fitted mouthpiece worn while one is asleep
(PRWEB) February 14, 2014
Snoring isn't sexy, and sooner or later, it can come between even the most loving couples. That's why SnoreMeds™ - South Africa's largest supplier of mandibular devices to stop snoring – is challenging couples to celebrate Valentine's Day by tackling those difficult issues that threaten their relationships rather than simply handing over another bunch of roses.
"Make 2014 the year when you try to resolve issues that could drive a wedge between you and your loved one. From dealing with many frustrated partners and spouses, we know that snoring can prevent intimacy, undermine relationships, and destroy sex lives," says Philippa Logan, co-owner of SnoreMeds.
Committed to educating people on the risks of snoring and poor sleep, Logan and her business partner, Michelle Hall-Jones, draw on a number of international studies and statistics to warn about the pitfalls of lost sleep as a result of snoring.
Research from the Vancouver Sleep and Breathing Center suggests that 59 percent of people complain that their partners snore; 19 percent of snorers are women compared with men at 50 percent. A 2012 study from the National Sleep Foundation cites that approximately 12 percent of married couples sleep alone and that marital satisfaction can be directly linked to sleeping patterns and quality of sleep.
Logan and Hall-Jones warn that when an exhausted partner gathers pillows and blankets and heads for the peace and quiet of the couch or a spare room, things can only get worse. Alternatively, when a snoring partner is banned from the bedroom, there's likely to be feelings of resentment. So what are couples missing out on when arguing or sleeping apart? According to a psychologist in a Huffington Post article ("How Snoring Can Wreak Havoc on a Marriage," October 3, 2011), in a busy and stressful world, the time spent together in bed is often the only chance many couples have to catch up on the day, share worries and problems, and plan outings or projects. This – and time spent cuddling, kissing goodnight, and more – is what draws people together.
A study that resulted in the book "Two in a Bed: The Social System of Couple Bed Sharing" by Paul Rosenblatt identified the benefits of couples sleeping together as warmth, a sense of safety and companionship as well as intimacy and a reaffirmation of a couple's commitment. Being both physically and emotionally closer also meant a better sex life.
So, what can couples do to prevent snoring from harming their relationships, sex lives, and marriages?
This Valentine's Day, Snoremeds would like to see couples accept that snoring is a shared problem with a shared solution. For starters, snoring is a physical condition and not a deliberate attempt to infuriate a frustrated and sleep-starved spouse. It is caused by a partial obstruction of the upper airway behind the tongue. When someone is asleep, the muscles around the upper airway relax, narrowing it. Air rushing through this smaller opening causes the soft tissue to vibrate, producing the sound that is known as snoring. Most people do not even know when they are snoring.
So, ditch any accusations, finger pointing and name calling. Together, investigate solutions to alleviate snoring. Often, the simplest solution is the most effective one.
SnoreMeds offers a great solution for snorers. The custom-fitted mouthpiece is worn while one is asleep, and it gently moves the lower jaw slightly forward, opening the airway. The benefits are immediate, with 85 percent of users noticing a decrease in their snoring habit. Many have even thanked SnoreMeds for saving their relationships, say Logan and Hall-Jones.
SnoreMeds™ is available online at http://www.snoremeds.com