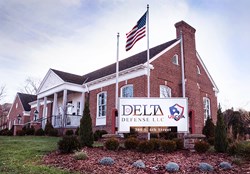 A lot of people call and ask, 'Tim, what is your office like?' or 'Do you really have an office or is this entire operation run from your basement?
West Bend, WI (PRWEB) February 08, 2014
Delta Defense LLC's United States Concealed Carry Association (USCCA) just wrapped up the company's most profitable and productive year yet. Their mission? To educate, train, equip, and insure U. S. citizens who want to protect themselves and their families through the use of concealed weapons.
In February 2013, the company purchased a new world headquarters in West Bend, WI. Formerly the home of the Museum of Wisconsin Art, this 20,000 square ft. building was renovated over a 10-month period, and opened near the end of the year. The facility houses offices and meeting areas for its staff members, a marketing library, and even a physical training room available to all Delta employees.
In his welcome video tour, Tim Schmidt, CEO of Delta Defense, LLC and President of US Concealed Carry Association, said, "A lot of people call and ask, 'Tim, what is your office like?' or 'Do you really have an office or is this entire operation run from your basement?'" These questions harken back to the company's Internet business roots when it was founded in 2003. Yet, the video tour of the new office space removes any doubt that Delta Defense and the USCCA are to be reckoned with and respected.
Another 2013 achievement was Delta's inclusion in the Inc. Magazine Top 5,000, as one of the fastest growing privately owned companies in the country. Coming in at position 1,217 put Delta in the top 25% of companies to receive this nod. Revenue grew from $2.4 million in 2009 to $10.5 million in 2012, with 2013 being its best year yet.
Last year also saw Delta Defense and USCCA breaking new ground in several other areas:

The company size doubled and over 20 new jobs were created.
Self-Defense Shield benefits, USCCA's insurance policy for its members, saw increased limits on all membership levels and several new features, such as the immediate criminal defense attorney retainer and firearms theft liability protection.
USCCA Law was launched—the company's very own law firm—with the sole intention of providing USCCA members with local access to Pro-2nd Amendment attorneys in all 50 states.
USCCA's Facebook fan page reached 1,000,000 raving fans.
Concealed Carry Magazine hit the 100,000 subscriber mark, with that number growing to over 112,000 by year's end.
USCCA gave away over 100 guns and almost 50,000 rounds of ammo to some lucky new members and subscribers in monthly drawings.
What's new in 2014? Delta Defense is planning to hire more team members, to give away more guns and more ammo, and to help to educate, train, equip, and insure more responsibly armed Americans all across the country.
For more information on the United States Concealed Carry Association, visit http://www.USCCA.com, or http://ConcealedCarryMagazine.com.
About Delta Defense, LLC:
Delta Defense LLC, founded in 2004, is committed to supporting and educating responsible Americans who carry concealed. It produces a print magazine and offers online membership access, an extensive concealed carry blog, a rapidly growing Facebook fan page, a 100% free e-publication called the Concealed Carry Report, and a nationally syndicated radio program—Armed American Radio.