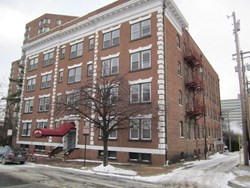 Baltimore, MD (PRWEB) February 10, 2014
The Hampton Court Apartments will be offered for sale at auction tentatively on Wednesday, March 12, 2014, pursuant to an Order of The United States Bankruptcy Court for the District of Maryland, Case No. 13-19514-DER . The property consists of one (1) commercial / retail space currently 100% occupied and twenty eight (28) 1BR, 2BR, 3BR & 4BR residential units, which currently are 73% occupied.
The established "Bidding Procedures and Terms" by the court requires all interested prospects to be qualified bidders for the live auction. As part of those procedures, initial written bids are due two business days prior to the Live Auction tentatively scheduled on March 12th.
The complete Bidding Procedures and Terms are posted in the data room / document vault at http://www.dolphinstreetAPTSauction.com along with other pertinent information for this Bankruptcy Auction; Such as, The Court order outlining the required processes and steps for qualifying to bid, FAQ's, leases, profit and loss statements, rent roll, broker | client registration form, important dates and more.
The website: http://www.dolphinstreetAPTSauction.com also contains contact information for Sperry Van Ness, the court appointed marketing agent for specific property questions and for scheduling guided property tours. A 1.5% Broker Cooperation Fee is available to licensed real estate brokers subject to court approval.
The Hampton Court Apartments located at 307 - 311 Dolphin Street, Baltimore, MD 21217 represent an opportunity for the investment community to acquire a solid multi-family complex located only 2 miles from Baltimore's Inner Harbor.
The neighborhood offers an urban setting of tranquility peppered with parks, historic fountains, Churches, public buildings and Grand Monuments that complement the surrounding period architecture.
Founded in 1987, Sperry Van Ness is one of the largest and fastest-growing commercial real estate brokerage firms in the industry, with more than 850 advisors in over 150 locations. The firm is built to immediately market every one of its clients' properties to the entire brokerage community. Sperry Van Ness delivers results for clients through a proven business model that provides advanced marketing and technology tools. Based in Irvine, California, the firm operates internationally and provides brokerage, consultation, asset management, property management, leasing, accelerated marketing, and auction services. Sperry Van Ness transactions total billions of dollars annually in office, multifamily, retail, industrial, self-storage, hospitality and land transactions.
SVN Auction Team members are fully integrated with Sperry Van Ness International and the 850 member advisors. Collectively, the team boasts more than 100 years of experience in planning, orchestrating and conducting successful auctions and sealed bid sales throughout North America, Mexico, Puerto Rico, and the U.S. Virgin Islands.
All Sperry Van Ness Offices Independently owned and operated.
Contact Information
Louis B. Fisher III, CAI
Sperry Van Ness Auction Services
954.931.0592
fisherl(at)svn(dot)com
David E. Gilmore, CCIM
Sperry Van Ness Auction Services
504.468.6800 ext. 202
david(dot)gilmore(at)svn(dot)com