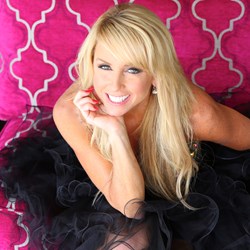 Too many people think of exercise as a way to get a sexy body. The truth is exercise makes you happy and that's sexy. Make happiness your ultimate goal for getting fit.
Laguna Beach, CA (PRWEB) February 11, 2014
Celebrity Fitness Trainer Chalene Johnson, mother of two and outspoken lifestyle expert, posted a free-spirited happy dance to her Facebook wall on Tuesday, February 4th, 2014, in a light-hearted effort to remind people that fitness is more about happiness than a number on the scale. In just hours the video had reached over a million Facebook users with hundreds and hundreds of comments like, "This makes me happy," or "I just can't stop smiling when I watch this video" and "I was having a bad day until I watched this video." In just days the video has had 2 million views and has reached over 10 million Facebook users.
The negative backlash regarding the dramatic weight loss reveal on this season of The Biggest Loser inspired Johnson to remind people to be happy and not obsessed with a number on a scale. Johnson, a seasoned fitness expert, said, "I wanted to remind people that fitness isn't about a number on a scale, but more importantly our goal should be to be happy!"
This wasn't Johnson's first time to post a dance video. In fact she is the Guiness Book of World record holder for having created the most exercise DVD's and fitness infomercials.
"The irony is that I've created hundreds of highly produced fitness videos, but it's the silly happy dance I did in my high heels, just impromptu in my backyard that has had the most profound effect on people, "said Johnson. "I disagree that people want sensationalism and bad news. The popularity of this video proves that people just want to be happy."
Since posting the video hundreds of people from around the globe have posted up their own versions from news anchors to moms dancing with babies, couples and even elementary school classrooms. Johnson credits the amazingly upbeat song, Pharrell's "Happy" and the easy to learn line-dance style of the steps.
Johnson says it has always been her mission to help people understand that hitting a certain number on a scale or having the perfect bikini body shouldn't be your only goal when it comes to exercise. Rather, she hopes the video will help to remind people that the ultimate payoff when we exercise is that we feel happier… at least when we're done.
The video can be viewed on Facebook:
https://www.facebook.com/chalene/posts/10152232603266449.
The video is also embedded on her website:
http://www.chalenejohnson.com/happydance
Chalene Johnson is the CEO and co-founder of Team Johnson with her husband and business partner of 18 years, Bret Johnson. An experienced entrepreneur who has founded and sold several multi-million dollars companies, Chalene and her husband have devoted their latest business to teaching Type A's and the uber motivated how to slow down, enjoy like and make more by doing less. A New York Times Best selling author, former clothing designer, business teacher and creator of several number one selling fitness infomercials like Turbo Jam, Turbo Fire, ChaLean Extreme and others, Johnson knows the down-side of becoming addicted to pursuits like work or fitness. She is an internationally sought public speaker and an outspoken advocate for balance and honesty in fitness.
For more information or to schedule an interview, please contact Chalene Johnson directly from the information provided by PRWeb or by sending an email to 11Bretjohnson(at)gmail(dot)com.