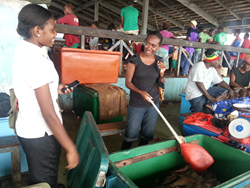 Point 97 provided simple and workable solutions to what at first seemed like a complex challenge…Point 97 technology so increased the efficiency and accuracy of data collected, we conducted and verified more than 2,500 surveys in just three months!
Portland, OR (PRWEB) February 20, 2014
The U.S. Agency for International Development (USAID) has awarded Hapi Fis, Hapi Pipol (Happy Fish, Happy People), a mobile app and web-based platform, the Pioneers Prize for using science and technology to solve development challenges.
Built on Point 97's mobile survey platform technology, the Solomon Islands program streamlines the real-time, market data collection of fish species, weight, origin, gear use, and more to strengthen food and economic security for coastal and rural communities.
"We are honored to be able to provide this critical and timely technology," said Ruby Gates, CEO of Point 97. "The Hapi Fis project underscores the need for digitized data collection as a path to accelerating improvements in resource management capabilities. Fisheries across the globe are seeing near-to-real time data management as a core component to sound decision-making addressing food security, conservation and economic security."
By eliminating the need for paper-based data collection, Hapi Fis significantly reduces processing time, increases accuracy of data input, and minimizes resources and related costs for processing data. The platform enables government officials to analyze long-term trends in fisheries data, to inform their management of the reef fisheries and the markets.
"Point 97 provided simple and workable solutions to what at first seemed like a complex challenge," said Maurice Knight, Chief of Party, Coral Triangle Support Partnership. "They worked seamlessly with all our partners—Solomon Islands Ministry of Fisheries, Marine Resources, USAID, NGOs and donor organizations—to deliver a custom mobile platform that is smooth and efficient. The result: Point 97 technology so increased the efficiency and accuracy of data collected, we conducted and verified more than 2,500 surveys in just three months!"
In the Solomon Islands, reef fish are the primary source of protein and major source of income. With predictions that the country's nutritional needs from reef fisheries won't be met by 2030, the Solomon Island's Ministry of Fisheries and Marine Resources (MFMR) and the Coral Triangle Support Partnership (CTSP) engaged Point 97 to develop, test and train users on the mobile survey application. The USAID-funded program is designed for Solomon Islands conditions where technological infrastructure is basic and fishers use 28 main fish landing ports and hundreds of smaller landing sites and markets across 1,000 islands.
Point 97 uses unique open platform technologies that offer digital data gathering tools, putting them directly into the hands of the people who historically haven't had access, like surveyors, fishermen, or tribes.
Point 97's products are also at work in other regions including:
● U.S. Mid-Atlantic: A multi-user Ocean Data Portal is providing a suite of customized technologies and services that allow stakeholders and decision makers to better understand regional ocean planning priorities. The data is categorized and beautifully presented in a way that allows it to be accessed, shared, and understood by disparate stakeholders and marine planning interests.
● US West Coast: Point 97 is assisting West Coast tribes in building spatial plans for their marine territories as a means of ensuring they assume leadership roles in forthcoming marine spatial planning efforts on the West Coast. They are working with tribal leadership to expand geospatial capacity within tribal agencies to establish protocols for developing and sharing data among coastal tribes and, ultimately, to assist tribes in creating marine spatial plans that are credible and acceptable to federal and state governments.
● U.S. Virgin Islands and Puerto Rico: Digital Deck is replacing paper-based catch reports with fast, easy, and accurate mobile data entry. As fishermen submit their catch-reports into the system they are immediately available for real-time reporting by fisheries managers, as well as providing access to their own historical catch reports for future trips and long-term business planning.
The Point 97 team will attend the World Oceans Summit, February 24-26, 2014 in Half Moon Bay, California. Point 97 CEO Ruby Gates and Director Charles Steinback, can be reached at hello@pointnineseven.com or through the media contacts listed above.
About Point 97
Point 97 is the first high-tech, for profit spin-off of Ecotrust, delivering technology solutions and engagement strategies for coastal and marine planning in regions around the world. Working to improve marine and coastal management practices, Point 97 helps partners and clients strengthen coastal communities and ocean ecosystems, bridge different ocean user perspective and implement management decisions in an inclusive and transparent way. Learn more at pointnineseven.com.
Learn more about USAID Pioneers Prize at: http://www.usaid.gov/pioneers-prize
Learn more about the Coral Triangle Support Partnership at: http://uscti.org/