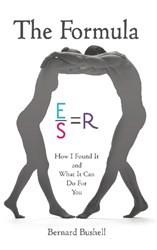 What Einstein did for physical sciences, I hope to accomplish with my Formula for the social sciences
(PRWEB) February 13, 2014
With the divorce rate of over 50% of marriages, according to the CDC, and the rate of divorce being instituted by women in the 70% plus range, according to the American Bar Association, Bernard Bushell in his new book: The Formula, How I Found It and What It Can Do For You, outlines a relationship formula for Valentine's Day consideration in understanding the same or opposite sex.
"What Einstein did for physical sciences, I hope to accomplish with my Formula for the social sciences", said the author. He says The Formula will do three things: improve every relationship, Help you find the right partner and avoid divorce.
His formula is E over S equals R. E for Ego, a hunter comparison, S for security, a gatherer comparison, which equals R, for relationship. Without the support of the gatherer, the hunter cannot succeed is his mission. Likewise the gatherer cannot succeed without the security and support of the hunter.
Recently, a client, Stephan C. Chiat, CPA of New Jersey, ordered over 200 books to be given to his forensic clients, whom he and others, counsel on divorce or are going through the process themselves.
Bushell's book is available on Amazon, BN, Author House and kindle and is soon to be released on Amazon and Audible.com as an audio book.
The book's endorsements include a Park Avenue sex therapist, Columbia University and New York University educators, and an American Psychological Association practitioner.
The theme of the Formula is for men and women, and same sex couples, to understand influencing factors in how they relate and behave with one another. The divorce rate has disastrous effects on children who bear the brunt of breakups, according to Bushell. It is also most important for couples dating to understand the sexes to avoid catastrophe, later in life.
In his own life, the author was married for eighteen years fathered three children, was single for fourteen years dating 50 women. He is now happily married for twenty years.
"My mission is for the sexes to better understand their differences, and use them, as a positive influence in any relationship, be it traditional, bi or gay. Society suffers with economic and social hardship whenever there is a dysfunction in the system".
Most couples, even newlyweds, or people just dating, misunderstand the Ego/ Security dynamic, where it can emanate from any sexual connotation. It is the crux of the problem that gets the sexes into trouble from the get go or later on in life, after the physical attraction or novelty, has worn off destroying children's lives for generations.
Women beget men and that is where the trouble starts. Men often resent being told what to do by a woman; an ego thing, says the author.
Valentine's Day is often a sink or swim time when couples either come together or often break apart.