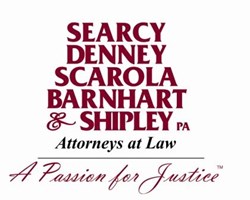 WEST PALM BEACH, FL (PRWEB) February 14, 2014
According to court documents, Todd Rosen with The Law Offices of Todd D. Rosen, P.A. (Miami) and Chris Searcy and Jack Scarola with the law firm of Searcy Denney Scarola Barnhart and Shipley (West Palm Beach) obtained a $10 million verdict in a two week trial (January 13, 2014-January 24, 2014) in front of Judge Carlos Rodriguez in Broward County, FL.
Case Name: Astley Simms v. Harry Kraft
Case Number: 12-31841
17th Judicial Court in Broward County, Florida
Date of Accident: 7/9/12
Facts: Based on the complaint filed in the court record, on July 9, 2012, Harry Kraft was speeding westbound on W. Broward Boulevard near the intersections of NW 69th & NW 70th Avenue when he rear ended a Chevy Blazer and caused a collision involving six vehicles, one of which was a pickup truck driven by 68 year old Astley Simms. Mr. Simms testified that upon impact he felt pins and needles in his arms and legs and found himself unable to lift his foot off the accelerator or control his vehicle until he was involved in a subsequent crash. Mr. Simms was transported to Broward General Hospital where he was diagnosed with a spinal cord injury that has left him partially paralyzed in all four extremities.
In the answer they filed in the case, the Defense claimed that the impact to Mr. Simms pickup truck caused by Harry Kraft was not the legal cause of Mr. Simms' spinal cord injury. The defense theory (rejected by the jury) was that Mr. Simms' injury occurred after he voluntarily left the scene of his initial, low-impact, rear end collision and negligently drove at 35 mph. into a stopped van a half mile down the road.
Chris Searcy indicated that the pre-Trial Offer was only $100,000 and the jury ultimately delivered a written verdict in the amount of $10,096,567.
Defense Attorney: James Sparkman with Cole Scott & Kissane.
For more information, please contact:
Todd D. Rosen at todd(at)toddrosenlaw(dot)com or 305-285-3022
Jack Scarola at jsx(at)searcylaw(dot)com or 800-780-8607