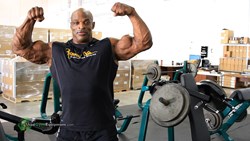 I think it should just be called GymEquipment.com, because it looks brand new.
Los Angeles, CA (PRWEB) February 17, 2014
UsedGymEquipment.com is proud to announce that it has partnered with 8-time Mr. Olympia Ronnie Coleman. When UsedGymEquipment.com found out Ronnie needed a new gym for his personal workouts, they were thrilled that he wanted to use their gym equipment.
CLICK HERE TO SEE A VIDEO OF RONNIE WORKING OUT IN HIS NEW GYM!
With over 25 years of experience in the fitness industry, UsedGymEquipment.com has a proud history of providing the best remanufactured gym equipment in the world at the best prices. Located in sunny Southern California, UsedGymEquipment.com boasts a 120,000 square foot precision remanufacturing facility. They employ a team of Fitness Equipment Experts who take quality used gym equipment and completely remanufacture it to be as good as new again -- at a mere fraction of the original cost.
CLICK HERE TO SEE A VIDEO OF RONNIE WORKING OUT IN HIS NEW GYM!
By offering Full-Gym Solutions, UsedGymEquipment.com saves gym and health club owners, personal trainers, and gym equipment dealers tons of money on overhead, so their businesses can thrive. And with clients in over 100 countries around the world, UsedGymEquipment.com has thousands of happy customers.
CLICK HERE TO SEE A VIDEO OF RONNIE WORKING OUT IN HIS NEW GYM!
And one of the happy customers they're most proud of having is the legendary Ronnie Coleman. When Ronnie saw the amazing gym UsedGymEquipment.com provided, he said it should just be called "GymEquipment.com" because there's nothing used about it. Ronnie was blown away by the quality and craftsmanship of the precision remanufactured gym equipment, as well as the impeccable service.
UsedGymEquipment.com and Ronnie Coleman: World-class gym equipment for a world-class athlete.