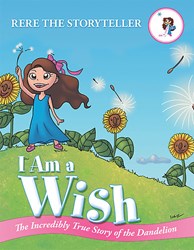 The book itself is a parable about life, with several universal messages that inspire, no matter the age of the reader. The book appeals to the dreamer in us all.
Bellevue, NE (PRWEB) February 19, 2014
Marie Callegari believes that self-acceptance and self-discovery can and should begin at an early age. In her new, magical children's tale "I Am a Wish", Callegari places a call to action for young readers to discover the beauty of their soul, unlock their true potential, and foster their own wishes to fruition.
"Dandelions represent something very special to children and to adults alike - dreams coming true. What is a dream without a dreamer? It's like a dandelion without a wisher. This book is for anyone who can still look at a dandelion and see their wishes come true," Callegari said.
She believes the book will aid parents in instilling a healthy internal dialogue, positive self-image and happy disposition in their children. Further, it ties the science of the universe and spiritual energy to childhood reading and the development of a rich imagination. She hopes to reinvigorate a love of reading in children, with positive messages that every family can enjoy.
"The book itself is a parable about life, with several universal messages that inspire, no matter the age of the reader. The book appeals to the dreamer in us all."
###
**FOR IMMEDIATE RELEASE**
EDITORS: For review copies or interview requests, contact:
Brittany Harness
bharness (at) bohlsengroup (dot) com | 317.602.7137