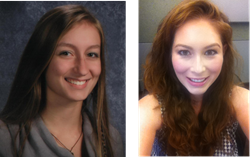 (PRWEB) June 02, 2014
Belvoir Federal Credit Union and GEICO partnered together to award $4,000 in education scholarships. One graduating high school senior and one continuing education student will each receive $2,000 towards their educational expenses.
Applicants were asked to answer three questions related to how Belvoir Federal differed from other credit unions and banks, how Belvoir Federal helps them to understand the importance of finances and their financial goals, and what their thoughts on Belvoir Federal's mobile and/or online banking services. All submissions were reviewed by a blind panel of judges and selected based on submitted items and the content, grammar, and punctuation of the essays.
The recipients of the 2014 Belvoir Federal/GEICO Scholarships were Elizabeth Zadnik and Christianna Gavis. The graduating high school senior, Elizabeth, plans on attending Virginia Tech to pursue a degree in Biology/Pre-Veterinarian. The continuing education student, Christi, is attending UCLA Anderson School of Management to advance her career in Brand Management - Marketing through her degree in Masters of Business Administration.
About Belvoir Federal Credit Union
Belvoir Federal is a member-owned, full-service financial institution that provides the foundation for the financial success of our Members. Belvoir Federal, a not-for-profit organization, has served the Fort Belvoir and U.S. Armed Forces community since 1946 and named 2014 Best Places to Work in Virginia. For more information about Belvoir Federal, please visit http://www.BelvoirCreditUnion.org.