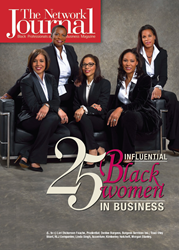 New York, NY (PRWEB) October 02, 2014
The Network Journal (TNJ, TNJ.com) is calling for nominations for its 17th annual 25 Influential Black Women in Business Awards (25 IBWIB). The deadline for nominations is Friday, October 10, 2014. Please visit http://www.tnj.com/25-Influential-black-women/call-for-nominations to nominate someone today!
Launched in 1999, 25 IBWIB highlights and honors the achievements of Black women executives and business owners who are at the forefront of American business leadership; winners symbolize the diversity and advancement that has occurred across industry lines. The Awards program is staged in the form of a luncheon in March each year, coinciding with Women's History Month.
Honorees are profiled in the print magazine, as well as online at TNJ.com. A video-taped interview of each honoree is placed on tnj.com for a global audience. Other print and broadcast news organizations also report on the Awards Luncheon.
The typical 25 IBWIB award recipient exudes professionalism and has a track record of providing leadership and support to her community. She is an owner, partner, president, CEO, CFO, COO, CIO, Board Chair, senior- or management-level executive, or a woman entrusted with significant decision- making authority in a corporation, not-for-profit organization, or public office.
TNJ maintains a database of its honorees. Past honorees include: Teresa L. White, Chief Operating Officer, Aflac U.S.; Wanda Felton, First Vice President and Vice Chair, Export-Import Bank of the United States; Jannette L. Dates, Ph.D., Dean, Howard University, School of Communications.
Past corporate sponsors of the annual event have included Macy's, Morgan Stanley, Wells Fargo, General Electric, L'Oreal USA, among others.
Press Contact: Sabrina D. Eady, The Network Journal, 212-962-3791 x206, Sabrina(at)tnj(dot)com
About The Network Journal
Founded in 1993, The Network Journal (TNJ) is the premier quarterly magazine for Black professionals, corporate executives and small-business owners. Engaging more than 98,325 readers, TNJ is dedicated to connecting, empowering and inspiring this market segment by providing news and commentary on issues that affect the growth of businesses and the advancement of professionals in the workplace. Along with featuring successful entrepreneurs and professionals who offer insights on business and career-building strategies, TNJ highlights trends in key industries, providing information on resources and opportunities at the corporate, government, and not-for-profit levels. Each issue also includes articles on finance and economy, career, management, health and fitness, technology, global business, Africa, and book reviews, as well as a calendar of events. In addition to the magazine, TNJ hosts two signature event that honor professionals in the business world through its: 25 Influential Black Women in Business Luncheon (March); and the 40 Under Forty Achievement Awards Dinner (June).