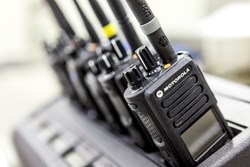 The new shopping cart features one of the simplest check-out systems available.
Cameron, MO (PRWEB) January 28, 2014
Midwest-based 2-way communications dealer Delmmar Communications Corp has recently announced the launch of their newly redesigned website that will showcase their large selection of Motorola 2-way radios, audio accessories, energy products, and nationwide radio repair service. In addition to giving customers a chance to peruse their e-store and buy their products online, this new launch has been met with excitement from their business and public safety customer base.
The new website design focuses on making the online shopping experience as easy as possible for visitors. Speaking recently about their focus on the usability of the website, C.S. Lintner, pres. of Delmmar, said, "When you go online to shop for 2-way radio equipment, you don't want to struggle just to find and buy compatible products. We've worked with our developer to make sure the user experience of our new website's shopping cart is as instinctive as possible. This being done with the hope the customer can find what they need quickly, make their purchase, and get on with their day." The functionality of the new website makes it simple for radio users to find their Motorola radio model and effortlessly locate compatible accessories and replacement batteries. The shopping cart features one of the simplest check-out systems available.
Adding to the excitement is the fact that Delmmar has announced exclusive launch week offers that will save customers dollars on their purchases. To celebrate the website launch, Delmmar will also be sending out special discounts to all its social media followers, previous website members and client base. "We wanted to reward our loyal customers with something special to celebrate the launch so we came up with some incredible discount offers that we hope they will enjoy," explained Lintner.
About Delmmar Communications Corp.
Delmmar provides a full line of wireless communications products, services and solutions (http://www.eradiostore.com). Established in 1987, the company has a nationwide radio repair center offering component level radio repair with flat rate pricing and fast turnaround times on out-of-warranty Motorola radios and other associated equipment. Delmmar is headquartered in the Midwest with service to all 50 states and many US territories. For more information visit http://www.eradiostore.com or call them at 800-872-2627.
MOTOROLA, MOTO, MOTOROLA SOLUTIONS and the Stylized M Logo are trademarks or registered trademarks of Motorola Trademark Holdings, LLC and are used under license. All other trademarks are the property of their respective owners. © 2014 Motorola Solutions, Inc. All rights reserved.