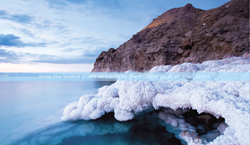 Chicago, IL (PRWEB) March 18, 2014
Aqua Therapy's ™ "Essential Dead Sea Treatment" enters the North America market with the opening of a new office in Chicago, IL, along with a new organic skincare line available for spas, hotels, and wholesalers.
Aqua Therapy's new products maintain skin hydration, balance moisture, stimulate blood circulation, protect the skin from dryness in various weather conditions, and improve skin flexibility. These products are not tested on animals and are paraben and sodium lauryl sulfate free. The packaging for these products are fully recyclable.
Aqua Therapy is manufactured in Jordan from the Dead Sea, with headquarters located in Dubai. The Dead Sea is one of the world's most intriguing mysteries; it is the deepest point on earth at 1300 feet below sea level, producing an unmatched combination of salts and minerals in its mud and water. Aqua Therapy uses the natural resources of the Dead Sea to develop and produce premium skin care products of supreme quality and effectiveness.
Chief Executive Officer, Herman Jacob says, "The Dead Sea is the home of Aqua Therapy's new retail line. The Dead Sea is a strikingly beautiful and peaceful place, a geological wonder filled with the kind of contrasts that only Mother Nature could create."
Aqua Therapy's products consist of a unique combination of Dead Sea salts and minerals and various types of essential oils and natural extracts. The new products are shipped directly from the company's USA warehouse.
Jacob continues, "The Dead Sea is so mysterious-- An oasis in the middle of the wilderness, a unique salty lake and muddy shoreline that holds the Earth's greatest concentration of skin-moisturizing minerals. Dead Sea water filled with one-of-a-kind, age- delaying algae and skin-soothing plants."
Aqua Therapy products are proven to provide many health benefits, including cleansing the skin of impurities, eliminating dead cells, cell rejuvenation, reducing muscle pain and stress, and alleviating skin disorders such as acne, psoriasis, and eczema. These products are now available for whole world to experience and enjoy. Aqua Therapy believes a healthy body brings peace to the mind.
About Aqua Therapy
The Aqua Therapy's factory is located in the industrial state of Amman, Jordan. Muhtaseb Cosmetics are now considered a leading organic cosmetic brand in Middle East. In 1998, Muhtaseb Cosmetics Factory began its path to leadership-- creating and producing natural cosmetics of world class quality. In 2003, the company began researching the powerful clinical effects of the Dead Sea's selection of rich minerals, and found that these minerals produce skin renewing effects.
Exploring the richness of these natural skin-replenishing treasures, and optimizing them with scientific precision, has concluded in the finest nature-inspired Dead Sea face and body care products available on the market. Over the years, Aqua Therapy has cultivated a unique brand identity that is synonymous with the richness, purity and natural goodness of the mineral rich basin.
For more information please visit http://www.aquadeadseausa.com
Contact
Chief Executive Officer
Herman Jacob
Phone: 855-932-7828 Ext. 3
Fax 011- 855-932-7828
E-mail: info(at)aquadeadseausa(dot)com
Website: http://www.aquadeadseausa.com
Youtube: https://www.youtube.com/watch?v=8r4ALqqbejA