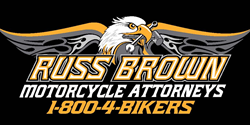 We couldn't be happier to be the official attorney sponsor of Daytona Bike Week.
Daytona Beach, Florida (PRWEB) March 04, 2014
Daytona Bike Week has been a tradition since January 24, 1937—the first year of the Daytona 200. The inaugural Daytona 200 race took place on the beach and Ed Kretz was the first winner on his Indian motorcycle. These races continued from 1927 to 1941 and were also known as the Handlebar Derbies. These races were briefly discontinued from 1942-1946 for World War II, but resumed again in 1947 when the race featured a record 176 riders.
In 1948, a new beach and road course was used to accommodate more riders and to avoid developments along the beach. The last Daytona 200 to be held on the beach took place in 1960, and in 1961, the race was moved to the Daytona International Speedway.
Today, Daytona Bike Week has evolved into a 10-day festival that goes way beyond motorcycle racing—and Daytona. The festival itself expands throughout Volusia County and there are hundreds of motorcycle events to enjoy. Annually, the Daytona Bike Week welcomes hundreds of thousands of visitors, tourists, and motorcyclists and is a legendary event.
"We couldn't be happier to be the official attorney sponsor of Daytona Bike Week," said Russ Brown
Russ Brown Motorcycle Attorneys
The law firm of Russ Brown Motorcycle Attorneys, Brown, Koro & Romag, LLP, have been serving riders across the country for over thirty-five years. Motorcycle lawyer Russ Brown created BAM, Free emergency Breakdown and Legal Assistance for Motorcyclists, because he felt the need to go above and beyond for his fellow riders. Russ Brown knew first hand what challenges motorcycle riders could face on the road and wanted to help out on the road and in the courtroom. BAM now has close to two million members and is available to all riders Nationwide, twenty-four hours a day seven days a week.
Two great legends in the motorcycle industry come together: Daytona Bike Week and Russ Brown Motorcycle Attorneys, Friday March 7 through Sunday March 16, 2014.
Additional information on Bike Week in Daytona Beach can be found on the Official Daytona Bike Week Website at officialbikeweek.com or by contacting the Daytona Regional Chamber of Commerce at 386-255-0981.
For further information on Russ Brown Motorcycle Attorneys
Contact: Audrey Nesbitt, Online Marketing & Communications Director, PR Audrey(at)russbrown(dot)com 310-658-6693
Follow Russ Brown Motorcycle Attorneys: http://www.russbrown.com
Facebook: https://www.facebook.com/RussBrownMotorcycleAttorneysLosAngeles
Google+: https://plus.google.com/+Russbrown/posts
Blog: http://www.russbrown.com/motorcycle-lawyer-blog/