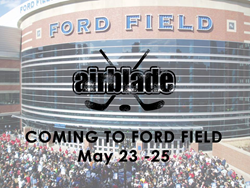 The delight on the faces of kids, adults and even pro hockey players when they see the rink is infectious.
Detroit, MI (PRWEB) March 11, 2014
AirBlade, the revolutionary new extreme sport that is a mixture of air hockey, ice hockey and inline skating, will hold a championship tournament weekend from May 23 - May 25 at Ford Field, the home of the Detroit Lions, it was announced today by AirBlade founder Mark Sendo, and co-founders, Fred Beal, Brian Barr, and Alaina Blake. The tournament will culminate in a May 25 championship game showdown to be broadcast live on PPV for the suggested retail price of $19.95. The broadcast will begin at 9 PM EST/6 PM PST and be distributed by MultiVision Media, Inc. Executive Producer Brian Ricco reports that it will be available in over 90 million households in the United States and Canada via cable and satellite, and will be available worldwide via streaming. Besides the Extreme Hockey Championship Game, PPV viewers will also watch an Alum Game featuring retired Detroit Red Wings players Joey Kocur, Darren McCarty, and Petr Kilma.
"The delight on the faces of kids, adults and even pro hockey players when they see the rink is infectious," said Sendo. "There is so much excitement around this sport that your first reaction when you see it is to reach for a pair of skates and a hockey stick and jump into the rink yourself."
Extreme Hockey is the nation's newest extreme sport, combining arcade game air hockey with ice hockey to create a blazingly fast experience. AirBlade will hold an 8-team, single elimination tournament on May 23-24 at Ford Field in Detroit. The winners of the tournament will then challenge for the Extreme Hockey Championship on May 25. Prior to the championship game, Detroit Red Wings alums Joey Kocur, Darren McCarty, and Petr Kilma will play in an Alum Game.
The AirBlade Extreme Pro Rink, which debuts at the tournament in May, will be the most advanced rink ever made. It's 85'x200', with 2.2 million pressurized air holes like an air hockey table, creating a near-zero friction surface for the puck. The surface of the rink is translucent and LED illuminated, lights follow the puck, and highlight scoring players as well as sponsors. The air-pressurized surface creates high velocity shots and intense playing speeds while the rink ends are banked 6' high, creating an 85' half pipe behind each goal.
"Much anticipation is being drummed up over AirBlade's launch as we announce plans to begin building prototype III, the full size, 85'x200' air-pressurized rink in March of 2014," said Alaina Blake. "With your help, we will make arcade air hockey come to life at a major Michigan venue in May 2014."
To fund their newest pro rink, AirBlade has launched a KickStarter campaign. (http://bit.ly/airbladerinks).
Kickstarter is a funding platform for creative projects. AirBlade's campaign with KickStarter offers sports fans and entrepreneurs the opportunity to participate in this Extreme Hockey event by pledging as little as $1 or as much as $10,000. Packages for KickStarter backers include AirBlade equipment and goodies, tickets to the test tournament, advertising on the rink, and even a private dinner with former Detroit Red Wings players Kocur, McCarty, and Kilma at the Championship test tournament.
AirBlade began with a $300,000 owner investment and has since successfully built two prototype rinks, and received intense attention from investors and players. Learn more about the KickStarter and get involved at http://bit.ly/airbladerinks.
AirBlade is an Ann Arbor, MI based company founded by Mark Sendo who first dreamed of the new sport in 1999. The company was founded in 2013. AirBlade owns all Trademarks and Intellectual Property associated with the game and the Extreme Hockey rinks. For more information on AirBlade, please call 248-820-6917 or visit http://www.AirBladeRink.com.
FACEBOOK: http://www.facebook.com/airbladerinks
TWITTER: http://www.twitter.com/airbladerinks
LINKEDIN: http://www.linkedin.com/company/5071147
YOUTUBE: http://www.youtube.com/user/AirBladeRink
INSTAGRAM: airbladerinks
AIRBLADE WEBSITE http://www.airbladerink.com
# # #
For more information:
Gladys Rosa (Rosa Public Relations)
914-954-4413
rprlatin(at)aol(dot)com
Donald Tremblay
718-664-3405
dtremblay(at)earthlink(dot)net