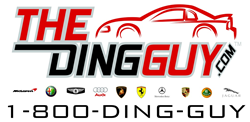 We strive to bring a level of professionalism and consistency to a very fractured industry.
Colorado Springs, CO (PRWEB) March 14, 2014
James Bishop, owner and general manager of The Ding Guy, not only brings dependable and creative solutions for auto cosmetic repair to Colorado Springs, he also pushes the limits to offer a unique process of paintless dent repair (PDR) that reduces blend areas, saving hundreds to thousands of dollars per auto insurance claim.
James Bishop began his paintless dent repair service as a one-man operation. With focus on the needs of the customer, The Ding Guy now does repairs that were thought to be impossible even ten years ago. "We strive to bring a level of professionalism and consistency to a very fractured industry," says Bishop. The sporadic nature of what is mainly a hail storm driven industry has paved the way for hundreds of "fly by night" companies. These PDR troops swoop into a hail-strewn town and set up in tents, trying to undercut body shop accounts serviced by the local PDR companies. "Many times," says Bishop, "they have left town or moved on to the next storm by the time any warranty issues come up. We have established long-lasting relationships with our customers and our accounts. We strongly encourage other PDR companies to do what we have done, and that is to provide a year-round local presence and educate customers about the repair process."
Seeing a need in the industry, the Ding Guy team has developed an estimation software tool, The Ding Stinger™, to benefit automotive related businesses worldwide. Auto shops run the risk of blame for pre-existing damage on a vehicle that can cost them thousands of dollars a month. Available on the Apple App Store, The Ding Stinger™ provides these shops with a thorough vehicle check-in system using photo documentation and note taking to not only protect them from false claims, but to also accurately price and sell the appropriate repairs to the customer.
Jake Durfee, co-developer of the software tool, explained the challenge of considering all fields of auto repair and how to implement a tool that is effective for all of them. "We're grateful to our users, because without their input, suggestions and insight, we wouldn't have been able to do this." The major appeal for small businesses is that they can completely customize the app to reflect their unique pricing and can produce invoices with their own unique logo.
Over 22 years of experience in the PDR field has brought about opportunities for The Ding Guy in other industries. "We developed a repair process for damaged computer stencils for the circuit board industry. We patented that process and are seeing more ways to incorporate our repairs into other venues." Development of The Ding Stinger™ app has opened even more doors to consulting on estimation and repairs in the PDR field. James Bishop has been qualified and hired as an expert witness in court cases related to PDR estimation.
The Ding Guy sees large scale growth in their near future with plans to use The Ding Stinger app as a tool to network thousands of auto-related businesses and link them to millions of potential customers. Plans include a technician training facility to help grow and expand their operations. "It's amazing what can be accomplished when individuals come together--each with their own thoughts, feelings, and ideas--and focus their energy in the same direction."
The Ding Guy leads the industry by requiring certification of its PDR technicians and membership with PDRNation.org. James says, "PDRNation.org is an association of technicians all over the world holding each other accountable in ethical business practices and quality repairs. Through an online review system accessible by everyone, it pushes the technicians to be the best they can be, which is a benefit to anyone looking for PDR repair professionals who genuinely care about their industry."
To learn more about The Ding Guy or the Ding Stinger app, visit http://www.thedingguy.com and http://www.thedingstinger.com
Follow us on Twitter and Facebook http://www.twitter.com/thedingguy and http://www.twitter.com/dingstinger
http://www.facebook.com/1800DingGuy and http://www.facebook.com/TheDingStinger