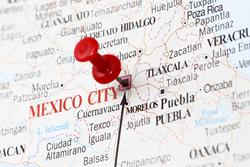 FocusPoint has gained the confidence of some of the world's largest organizations operating in Mexico
San Diego, CA and Mexico City, Mexico (PRWEB) March 18, 2014
Septien, a well-respected and seasoned security executive brings over fifteen years of senior-level security and risk management experience to the FocusPoint team. Mary is a tri-lingual and bi-cultural executive that truly understands the complex and often fluid threat environment encountered by Fortune 500 and FTSE 100 companies operating in Mexico. FocusPoint operates nationwide in Mexico through a network of well-established offices with certified personnel. In her capacity as Managing Director, Septien will be based in Mexico City and have responsibility for all operations and personnel supporting client interests in and throughout Mexico.
"I've had the privilege of working with Mary in the past. Her keen ability to connect with clients', understand their needs and provide sustainable solutions is a breath of fresh air", said Greg Pearson, CEO of FocusPoint International. Pearson also adds, "FocusPoint has gained the confidence of some of the world's largest organizations operating in Mexico. Most analysts covering the security industry indicate that Mexico is expected to grow between 8 and 12% through 2014. As FocusPoint continues to scale to meet demand, the need for experienced management is critical. Mary has received top honors from the Mexican Security Industry. She represents the best and the brightest the security segment has to offer in Mexico and we're proud to have her on our team."
About FocusPoint
FocusPoint International is a bespoke professional services firm in the security and risk management space. Headquartered in San Diego, CA. the company provides a well-positioned, integrated suite of security, consulting, crisis management and investigation services for multi-national corporations, governments, high net-worth individuals and nongovernmental organizations. The company's primary business in Mexico involves crisis response for matters of kidnap for ransom and extortion; threat, risk and vulnerability assessments; business intelligence and due diligence; journey management solutions, to include secure transportation, close protection, asset tracking via GPS and emergency response.